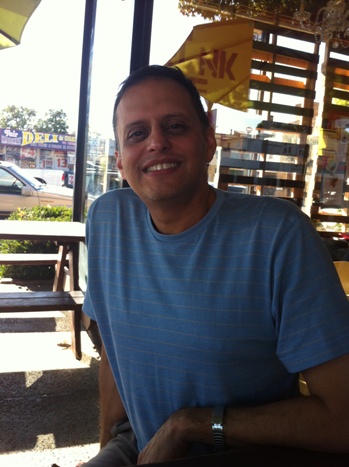 AGE: 44
PROFESSION: Lawyer
HOMETOWN: Originally from Roseville (northern California), now Santa Monica.
COLLEGE: UC Berkeley
FAVORITE FOOD: So hard to choose! Lately, Thai Curry.
FAVORITE PLACE VISITED: Ladakh, India.
PLACE YOU WANT TO VISIT: Mars. Just kidding (not really). Uh, Machu Picchu perhaps.
FAVORITE MOVIE: Blade Runner – our eerie LA future, without the rain.
HOBBIES: Movies, hiking, beach.
BACKGROUND: I was in very poor physical condition a few years ago, so I started looking for fitness groups to join. I did not feel like I was disciplined enough to join a gym. For me, Sonki Fitness turned out out to be the right fit. I have lost over 50 lbs since starting Sonki Fitness.
What is your current exercise routine? I take the Sonki Fitness class T & Th mornings in Westwood with Natalie and sometimes go running on the weekends as well.
What is your motivation to stay in shape? I just like how I feel after getting through a morning workout. I experience higher energy and a better mood after working out.
What is your greatest challenge to staying in shape? Just staying on a workout routine. I have no problem hitting highs (like going to 6 classes in a week), but I also can go MIA for a month. Having a few people who are going to say "hey, where the heck have you been?" does provide me some extra motivation during the lulls.
What is your key to success? Once I've managed to get my butt to class, the rest is easy. I just let the class happen and try not to fight it. It's really mental down time for me, not my time to be creative or even social. I just go for it physically until I can't go anymore.
What do you like about Sonki Fitness Boot Camp and how has it affected your life? I've stayed with Sonki Fitness because the exercise routines are simple yet diverse and challenging. I also have enjoyed meeting friendly people along the way and will always prefer being outside to a stuffy gym!