TOMS BOOT CAMP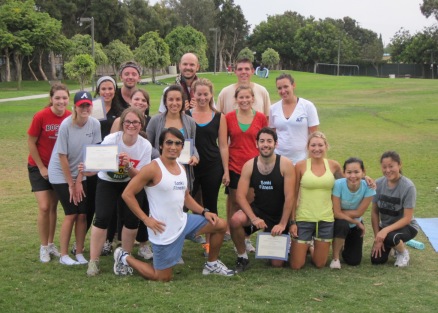 SONKI FITNESS BOOT CAMP is a fun outdoor fitness training program designed to condition the entire body and mind.  The main focus of the program is to improve total body fitness while having fun outdoors.
Drastically improve total body fitness (stronger, faster, and leaner!)
Decrease your body fat and lose inches.
Improve self-esteem and feel happier overall.
Increase your mental toughness.
Fun, friendly environment (no yelling).
Fitter, healthier, & happier you in just 5 weeks!
We provide world class instructions with a personalized support so that you can achieve optimal fitness for life.
PROGRAM
Sonki Fitness Boot Camp at TOMS
COST
FREE for TOMS employees
CLASS TIMES
6 – 7pm on Tue/Thu
DATES
TBD
LOCATION
TBD
WHAT TO BRING
A yoga mat (or large towel), water, and a positive attitude
INSTRUCTOR
Sonki
SIGN UP NOW
Q:

What is Boot Camp like?

A: Sonki created the program based on his West Point & US Army training, so it's designed to get an individual in the best shape of his life in the shortest possible time. Our training methodology includes a right mix of strength training, cardio, muscle toning, interval training, flexibility improvement, and even some fun games. You can expect to work every inch of your body while being challenged to the fullest mentally & physically. And you will have a lot of fun and meet some really cool people along the way.
Q:

 How long is it?

A: Our program is 5 weeks long, and each class is an intense 1 hour of total body workout. You can expect to burn off 600 – 800 calories during that hour!
Q:

 How's it different than other boot camps & gyms?

A: Our boot camp offers a far more personalized approach than a gym. You feel like you have a personal coach who is genuinely looking out for you. And unlike other boot camps, there is no yelling or screaming (even though it's based on Sonki's actual military training). Our environment is very friendly, fun, and supportive.
Q:

Who can join?

A: Our boot camp is for all ages and levels (we even have an 83-yr old!). Specially designed to challenge everyone, it allows you to push the physical limits at your own pace. And since we have a 99% success rate, everyone is fully capable of succeeding in our program.