ABOUT KATIE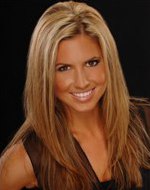 Katie has more than 14 years of personal and group fitness training experience. An athlete at a very young age, Katie has built her life around fitness and the desire to keep herself, and those around her healthy and active. She began by breaking fitness records in her elementary school (beating both the girls and the boys in every grade in the Presidential Fitness Assessment), and used that as her motivation to be at the top of her game as she continued throughout her life. Katie was asked to serve as Captain on both her Varsity Cheerleading and Gymnastics teams in High School and received the MVP awards for both sports.  She attended the University of North Carolina at Wilmington on a cheerleading scholarship, where again, she was asked to serve as the Captain of her team. She participated in several National Cheerleading Championships (Collegiate and All-Star) and was asked to travel with UNC-W's basketball team to every NCAA March Madness tournament the team attended during her time in college (2000, 2002, 2003).
After graduation, Katie moved to Maryland where she proudly represented the Baltimore Ravens as a cheerleader during the 2003-2004 NFL season.  She then relocated to Los Angeles and auditioned for the Los Angeles Clippers Stunt Team, where she cheered for 3 years and also served as the team's Captain. Katie was awarded the Rookie of the Year award as well as the MVP award for her performance on the team. During her time with the Clippers, Katie worked closely with both the cheerleaders and the dancers and staff to make sure that the performers were all in shape and eating well. She developed workouts as well as personalized diet guides for the athletes and met with both teams periodically to ensure each individual's success. Even after her retirement from the Clippers, Katie served as a consultant for both teams, teaching fitness workshops and assisting in the team selection process. Katie has appeared in Sports Illustrated, The Wilmington Morning Star, ABC's Wipeout, A&E's Gene Simmons Family Jewels, the WB's Dawson's Creek and Nicholas Spark's A Walk To Remember.
Katie received her NCSF Certification and began working with Sonki Fitness in September 2006 and has been on at least 6 Hawaii Fitness Vacations. She is obsessed with the outdoors and loves motivating her clients and her peers to stay healthy. In her free time, Katie can be found running through the Santa Monica mountains with her two huskies.