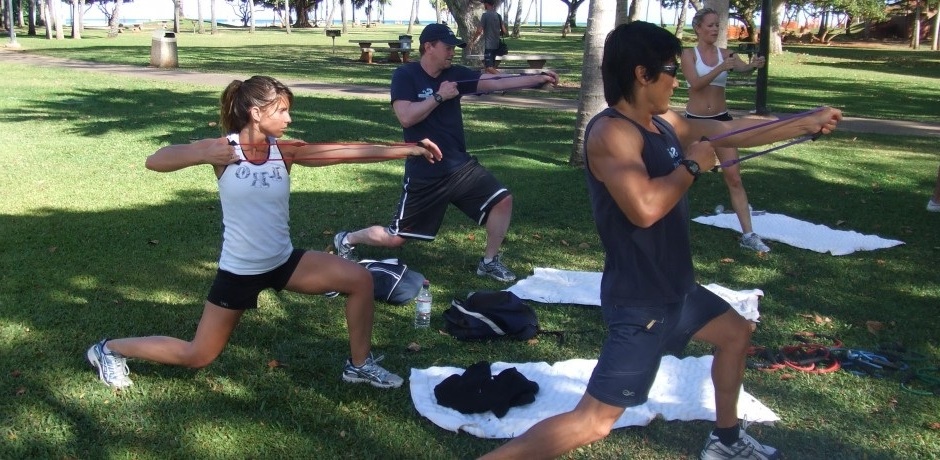 Q:

What is Boot Camp like?

A: Sonki created the program based on his West Point & US Army training, so it's designed to get an individual in the best shape of his life in the shortest possible time. Our training methodology includes a right mix of strength training, cardio, muscle toning, interval training, flexibility improvement, and even some fun games. You can expect to work every inch of your body while being challenged to the fullest mentally & physically. And you will have a lot of fun and meet some really cool people along the way.
Q:

 How's it different than other boot camps & gyms?

A: Our boot camp offers a far more personalized approach than a gym. You feel like you have a personal coach who is genuinely looking out for you. And unlike other boot camps, there is no yelling or screaming (even though it's based on Sonki's actual military training). Our environment is very friendly, fun, and supportive.
Q:

 How long is it?

A: Our program is 5 weeks long, and each class is an intense 1 hour of total body workout. You can expect to burn off 600 – 800 calories during that hour!
Q:

Who can join?

A: Our boot camp is for all ages and levels (we even have an 87-yr old!). Specially designed to challenge everyone, it allows you to push the physical limits at your own pace. And since we have a 99% success rate, everyone is fully capable of succeeding in our program.
Q:

When and where is it?

A: We currently have morning and evening classes at 3 locations in the Los Angeles area – Playa Vista, Santa Monica, Westwood (see schedule below).
Programs
There are 3 programs to choose from depending on your desired location and frequency. Our 5-week sessions include a free shirt and fitness assessment.

Basic Training:

For anyone who wants to get in top shape, have fun, and meet cool people. M/W/F or Tu/Th class at the same time & location.

Unlimited Training:

Same as Basic Training, except you get unlimited access to all the classes offered (Mon-Sat) at all locations. Any class, any time.

Weekend Warrior Training:

For those too busy to workout during the week or already with a solid fitness routine. Saturdays at 9am in Santa Monica.
Pricing & Discounts
Basic Training
Unlimited Training
Weekend Warrior Training
Regular Price
$250 for 5 weeks
$275 for 5 weeks
$90 for 5 weeks
Returnees
$225
$250
$75
Sign-Up w/ Friends
(Join with a friend & save.)
$225
$250
$75
Students / Teachers / Nurses
(Full-time only)
$150
$170
$50
Military / Police / Firefighters
$150
$170
$50
Big Kahuna
(Pay for 3 consecutive unlimited sessions)
$650
(save up to $175)
Cowabunga
(Pay for the entire year)

$1600
(save up to $750)
Drop in Rate
 $25
$25
$25
2018 Schedule
Session
Location
Time
Instructor
Jan 8 – Feb 10

M/W/F – 6:30am, 8:30am, 6:30pm

Sat – 9am

Feb 12 – Mar 17

M/W/F – 6:30am, 8:30am, 6:30pm

Sat – 9am

Mar 26 – Apr 28
TBD
Apr 28 – May 5
Sonki Fitness Vacation (Oahu)
May 7 – Jun 9
TBD
Jun 18 – Jul 21
TBD
Jul 22 – 28
Sonki Fitness Vacation (Fiji)
Jul 30 – Sep 1
TBD
Sep 1 – 8
Sonki Fitness Vacation (Maui)
Sep 10 – Oct 13
TBD
Oct 15 – Nov 17
TBD
Nov 26 – Dec 15
(3 weeks)
TBD