SONKI FITNESS VACATION
 "The only vacation where you will come home in better shape!"™
Featured in Men's Health magazine as a trip "that will change your life!"
Our special adventures twine fitness and fun so that those energetic workouts specially designed to get you in gorgeous shape are countered with evenings of fun and decadence. Pack your fun-loving spirit, make new friends and indulge your senses as you kayak and swim through pristine waters…hike spectacular trails…dine by starlight…dance under the moon, and daydream in a hammock. A vacation that renews your energy and zest for life while enhancing your fitness!
"One of Top 20 trips in the world" – Men's Health
"One of Top 4 Recommended trips in 2015" – CBS WATCH
"One of Top 8 trips in the US" – MSN.com
"Best Group Retreat in the US" – Greatist
"One of Top 8 Spring Break Destinations" – Rodale Wellness
"One of Top Fitness Vacations" – Yahoo! Voices
"One of Top 4 Fitness Vacations for Women" – BecomeGorgeous.com
We do trips to Maui, Oahu, and Fiji.
Trip info: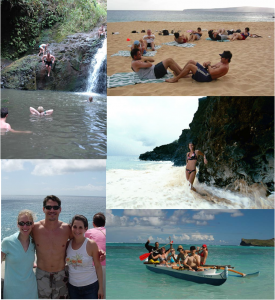 -Package includes 7 nights luxury accommodations, total body workouts, daytime activities (hiking, kayaking, snorkeling, etc.), evening activities (dining, dancing, luau, etc.), Sonki Fitness goodies (shirt, hat, water bottle), ground transportation, and more!
-Featured in Men's Health as a "Trip that Will Change Your Life."
-Featured in CBS WATCH as "One of Top 4 recommended trips in 2015"
-Featured in MSN.com as one of "Top 8 Places to Take a Vacation and Lose Weight."
-Featured in Johnny Jet as "the perfect place to exercise and energize."
-Interviews with celebrity screenwriter Craig Titley ("Cheaper by the Dozen") and Rob Moreno
–Photos & Videos from our trips and Stories written by our clients
What people are saying: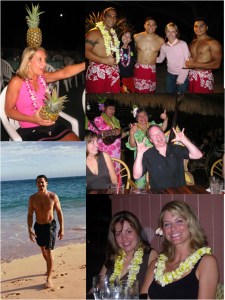 "It was the Best vacation of my Life!" – Will
"Overall this trip was amazing, and I have to say the most fantastic trip I've ever experienced! – Heather
"Your Hawaii trip was the best thing that happened to me in a long time!" – Art
"It was the best trip that I have been on!!" — Brian
"I just wanted to let you know what an amazing week I had with you and everyone in Oahu. Not knowing anyone on the trip and assuming I'd be the lone new yorker of the group, I figured at the very least I'd get some great workouts and hopefully some tropical weather. What I ended up getting instead far exceeded those expectations. I truly never expected to form such close bonds, and I never would've expected to shed tears upon my good-byes. And this newfound fear of heights thing – what an exhilarating sense of accomplishment to reach the top of Makapuu and Koko crater still in one piece and alive to tell about it! Can't wait til the reunion, and more importantly, next year's trip!" – Janna   (Read more testimonials…)