SONKI FITNESS VACATION (MAUI)
"The only vacation where you will come home in better shape!"™
(Sep 1 – 8, 2018)
Featured in Men's Health magazine as a trip "that will change your life!"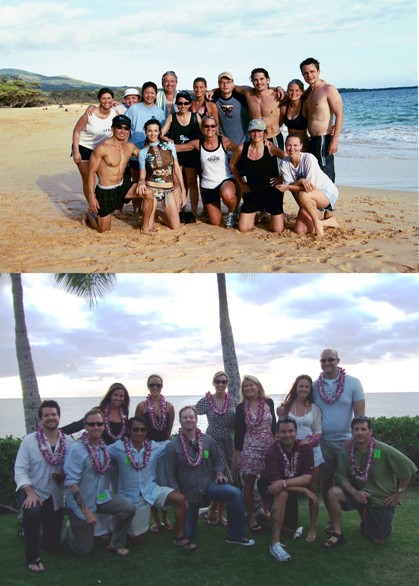 Experience breathtaking Maui as you have never before! With this 8-day Sonki Fitness Vacation, you will enjoy a week-long sojourn to a tropical paradise where you'll explore Maui's idyllic beaches, hike waterfalls and work out in the great outdoors…all while living it up like a rock star! This special Maui adventure twines fitness and fun so that those energetic workouts specially designed to get you in gorgeous shape are countered with evenings of fun and decadence. Why take a trip where you'll just end up tired, unhealthy & wishing you hadn't eaten that last burger? Get in shape on a stunning tropical island: it's the way vacation should be…   SIGN UP NOW
"One of Top 20 trips in the world" – Men's Health
"One of Top 4 Recommended trips in 2015" – CBS WATCH
"One of Top 8 trips in the US" – MSN.com
"Best Group Retreat in the US" – Greatist
"One of Top 8 Spring Break Destinations" – Fitbie
"One of Top Fitness Vacations" – Yahoo! Voices
"One of Top 4 Fitness Vacations for Women" – BecomeGorgeous.com
PACKAGE INCLUDES:
-7 nts accommodations at the Grand Wailea (4-star beachfront hotel).
-Fun outdoor workouts at breathtaking locations (focus on total body fitness – strength, endurance, speed, agility, and flexibility).
-Daily activities to include beautiful hikes, kayaking, snorkeling, paddle boarding, biking, boogie boarding, luau, island tours, and more! (Optional activities include scuba diving, horseback riding, windsurfing, parasailing, deep sea fishing, golf)
-Evening activities to include dining at amazing restaurants, dancing, watching live bands, and karaoke. (meals & drinks not included in price.)
-Plenty of free time to shop, relax, and enjoy personal time.
-Final night party.
-Sonki Fitness shirt, hat, bag, and water bottle.
-Ground transportation. (Flight is NOT included.)
–See a sample trip itinerary

DETAILS:
The cost for the trip is $2250 (based on double occupancy). Upon registration, a $250 non-refundable deposit is due (this amount is applied toward the full payment). Your space is not reserved until this deposit is received in full. Then a full payment is due by Jul 20 (add $800 for single occupancy.). Sign-up deadline is Jul 20.
Space is limited to only 16 people, so sign up early!  For more info, please contact us at (310)260-2518.
"It was the best vacation of my life!" — Will