SONKI FITNESS VACATION SPOTLIGHT (2010)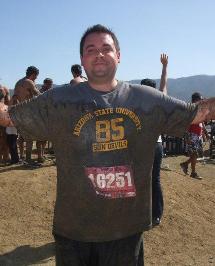 NAME:  Robert Moreno
PROFESSION:  Construction Manager
How many times have you been on Sonki Fitness Vacation?  I completed the Sonki Trifecta this April with my third fitness vacation, and I don't see an end in sight. I'm afraid I'm what you'd call a "lifer."
What made you want to go the first time?  My introduction to the Sonki Fitness World was through some very good friends and those same friends suggested we go on the fitness vacation. I was skeptical at first since in my mind "fitness" and "vacation" seemed to be in fundamental opposition to each other, but I quickly learned that the trip was, in fact, simultaneously exhilarating and relaxing.
What were your expectations, and did you have any concerns?  I really didn't know what to expect other than a lot of working out. I had been attending Sonki's classes for nearly a year so I knew any "fitness vacation" by his definition would involve some serious work outs, but I was hoping it wasn't going to be too crazy. And with any group trip I think you always worry about the group dynamic. My first trip had sixteen people, only three of whom I knew, so I wasn't really sure how the group would mesh. Thankfully, I was pleasantly surprised with both the work outs and the group. It's truly a week filled with fun and great people.
What made you want to go again?  A better question might be what gets me through the time between Sonki Fitness Vacations? From the moment I stepped off the plane after my first Sonki Fitness Vacation, I was already planning the next one in my head. Honestly, I have never felt such disappointment to be back to reality. I was used to leaving vacations with a little anxiety about returning to the real world, or even some disappointment that the vacation couldn't have been longer, but with Sonki Fitness Vacations, I literally go through withdrawal. I find myself looking at photos of the trips constantly in an attempt to get back some of that island magic.
What is your most memorable experience?  Most of my most memorable experiences aren't fit for publication. In fact, there are many experiences that I don't remember at all thanks to a few too many Mai Tais and the signature drink of the trip, the "Sonki Bomb." So instead I'll say the way I feel the whole week is the most memorable part of the trip. Each trip has been different for me, but one constant remains throughout – I learn something new about myself each time I go. Sometimes it's been pushing a physical limit like hiking up Koko Crater, sometimes it's the beauty of the islands that provides the setting for great introspection, or sometimes it's the people I've met that you know will be a part of your life forever. Whatever has prompted the feelings – one thing is clear – I leave each time better off than when I arrived.
What is your funniest experience?  Having been on three trips now, it's hard to identify just one experience that I would call the funniest (again, one fit for publication…) so I'd have to say it's a combination of falling through some bushes, passing a little gas in an elevator with some very "close" friends, and watching a good buddy fall not once, but twice out of his chair at dinner due to a little too much island magic…
What is your favorite activity on Sonki Fitness Vacation?  I think this question is best answered in two parts – daytime activities and nighttime activities. During the day, hands down it's Koko Crater. That hike gets in your head weeks before you go and you just feel like you need to conquer it. It's honestly one of the few things I've done in life where just finishing seems like a huge achievement! At night, the "pre-party" and "movie-nights" in Craig's room take the cake. After all, when was the last time you had a group of people ranging from their 20's to their 40's sitting in their pajamas watching I Love You Man on a bunch of pull out couches? Wrap your mind around that visual…
What do you like about Sonki Fitness Vacation?  Short answer – EVERYTHING! Sonki's vacations are the perfect balance between activity and relaxation. Sonki structures the trip in the perfect way so you can just let go. You really don't have to worry about anything. The activities are planned, the transportation is arranged, and most meals are set up for you. It's the perfect amount of planning without feeling like you're on a schedule.
What advice would you give to others about Sonki Fitness Vacation?  GO! GO! GO! In my entire life I haven't endorsed a product or person with the kind of conviction I have about this vacation. You will be challenged physically (both at the workouts and from the laughter you'll experience), and you'll find something that you didn't think was possible. You'll leave the trip with new friends you keep for life and you'll want to go back every year.
Any other comments?  I've probably beaten this idea to death, but these trips are truly life changing experiences. Only those that have done Karaoke at the Shorebird, had food fights at the Luau, or have stood atop Koko Crater in triumph know exactly what I mean. To all those reading this, I hope you become one of the Sonki Fitness Family soon…