Damien DeLaney (Jan 2013)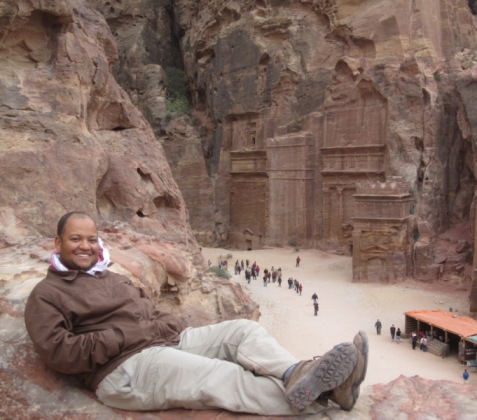 AGE:  35
PROFESSION:  Employment Law Attorney
HOMETOWN:  Lexington, VA
COLLEGE:  William and Mary (Go Tribe!)
FAVORITE FOOD:  If we're talking healthy, probably Thai Green Papaya Salad.  Anything goes? Probably Carolina Barbecue.
FAVORITE PLACE VISITED:  Too hard to pick one. My favorite cities are probably Paris and Istanbul. The Taj Mahal is the most spectacular thing I've ever seen (but I could say that about the Grand Canyon too). I loved traveling in South Africa and Thailand.
PLACE YOU WANT TO VISIT:  Too many to count, but Oaxaca, Patagonia, and Machu Picchu are on the short list.
FAVORITE MOVIE:  Vertigo
FAVORITE SINGER:  Prince
HOBBIES:  Traveling and cooking.
BACKGROUND:  For most of my life, I've been out-of-shape and struggled with my weight. I didn't watch what I was eating. Usually, I would get exercise by playing pick-up sports with friends, but I would always be the slowest guy out there sucking for air and never getting the ball! About three years ago, I made a major lifestyle change:  my wife and I decided to backpack around the world. As a result, we were eating less and much more active. The pounds started flying off. But when we returned home in 2010 and settled down again (and back to work), the scale started moving in the wrong direction and I was headed right back for the bad state I had been in before traveling. I knew I needed to find something to stop the bleeding. So I signed up for my first 5-week session with Sonki Fitness in October 2010. I was able to stop my weight gain and started working on getting in good shape. I started running for the first time in my life, and I entered my first 5K race after doing Sonki Fitness for about 6 months. Since then, it's been no looking back.
What is your current exercise routine?  Sonki Fitness three days a week. I also try to take a spin class or go running on off days.
What is your motivation to stay in shape?  I have an 18-month old daughter and a son literally born yesterday, so I want to be around a long time for my family. And I want to look and feel good in my clothes.
What is your greatest challenge to staying in shape?  I'll give two. One is inertia. I have a pretty sedentary lifestyle outside of my fitness routine, and you know what happens with bodies at rest. It's very easy for me to fall out of the routine and lose momentum, so I need to constantly be mindful of that and fight against the urge to be lazy. Number two is commitment. When you have a demanding job, a family, and a dramatically limited amount of time, it's important to make decisions about what needs to be a priority. Fortunately, I have made being at palisades park to train with Sonki at 6:30am a priority, but keeping up that commitment against other demands requires a constant struggle.
What is your key to success?  I'm not sure I'd call it success yet because I still have goals I'm trying to achieve out here, but what keeps me on the path to success? Not giving up, even when I feel like keeling over. Listening to my body, so I avoid injuries (or aggravating old ones).
What do you like about Sonki Fitness Boot Camp and how has it affected your life?  Well, the camaraderie with my fellow Sonki Fitness warriors has been amazing. Over the past two plus years, I've gotten to know some great people and make good friends. Being able to share a joke with friends sometimes eases the pain of the workout! I like Sonki's leadership because I am not very effective at self-directed workouts. When I was going to the gym and working out alone, I was always cutting short the routine or working out too slowly. Obviously, that doesn't happen anymore.
What advice would you give to others about fitness?  Get out there and take the first step toward building a routine. Listen to your body and stay within your limits, but also challenge your limitations (if that makes any sense).