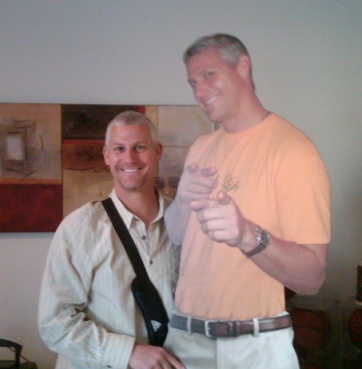 AGE: 43
PROFESSION: Finance
HOMETOWN: Santa Monica, CA
COLLEGE: UCSD
FAVORITE FOOD: Oreo cookies
FAVORITE PLACE VISITED: Peru
PLACE YOU WANT TO VISIT: Bora Bora
FAVORITE MOVIE: Pulp Fiction
HOBBIES: Visiting fine establishments such as Big Deans, Chez Jays & the Whaler.
BACKGROUND: Father of three amazing kids, two in college and one a junior at Pali High. I could not be prouder of all three of my kids and the strength they have shown through life's ups and downs. I live with my youngest daughter, my best friend/girlfriend Heather and two old Labs. Life is pretty darn good right about now.
What is your current exercise routine? Sonki Fitness Boot Camp 3-4 days a week and run or hike 2 – 3 times a week. I also ride bikes, and when my body is not feeling too old I will try and mix in some basketball or racquetball. But lately this 43 year old frame has been laying off the hoops and racquetball.
What is your motivation to stay in shape? I like to play hard, so I believe I need to work out harder to keep going. I also have to try and keep up with the kids and the lady friend in my life.
What is your greatest challenge to staying in shape? My love for Oreos and beer.
What is your key to success? Showing up. I believe that making it to the class/gym/mountain or running path is more than half the battle, once you get there you have no choice but to work out.
What do you like about Sonki Fitness Boot Camp and how has it affected your life? Sonki Fitness has been great for me. I have made some good friends, got in much better shape, and what is better than a workout in the sand as dolphins are swimming 40 feet away from you?