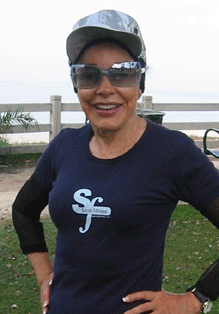 AGE:  76
PROFESSION:  Actress/Model/Producer
BACKGROUND:  Terry is an Academy Award nominated actress/model who has starred in over fifty films including the original "Mighty Joe Young" and co-starred in movies with Fred Astaire and Robert Wagner to name a just few. She is the legal widow of Howard Hughes and recently helped Leonardo DiCaprio with his characterization for "The Aviator." Terry has been participating in Sonki Fitness Boot Camp since May, 2005 and did a whopping 61 sit-ups in two minutes on one of her fitness tests. Furthermore, she completed her first marathon at the age of 70 and followed up with another one four years ago.
Watching Terry Moore jog across the sand or do sit-ups in Sonki Fitness Boot Camp, you'd never suspect her age. Her energy and vitality transcend our traditional views of aging and her enthusiasm and commitment to the class are a genuine inspiration. She never cared much for exercise and it wasn't until she and fellow cast members in the movie "Peyton Place" discovered the joys of turning a workout into a positive social experience that the fitness bug took hold.
She recently took some time out of her busy schedule to share the secrets of her youthful exuberance and how exercise and Sonki Fitness have improved her life.
How long have you been working out?  I was asthmatic as a kid and sickly, so I was always excused from gym. The year I made the movie "Peyton Place," 1956, I joined a gym and became friends with the owner. All of us from the movie worked out together and I also started body surfing with the other co-stars and I started loving exercise. I kept exercising, even right up to when my kids were born in 1960 and 1961. When I got divorced I quit exercising, but I discovered aerobics in 1979 and got into that and then yoga. I love yoga and have done it ever since. I love to ski and I actually got more athletic the older I got.
What's your current exercise routine?  I work out with Sonki three times a week, I do yoga Tuesday, Thursday and Saturday and on Sunday I walk 10 miles.
What's your motivation to stay in shape?  It's more about fitness and feeling great. The more you exercise the more energy you have. I feel sensational when I exercise. I feel like I could climb a mountain.
What's your key to success?  I do it because it feels so good. I can get very depressed if I don't exercise. I know now I will feel better if I exercise. When the last thing I really want to do is exercise I tell myself I can either feel sad and blue or I can feel sensational and have a great day. It's your choice.
You participated in your first marathon, 26.2 miles, at 70 years of age! What inspired you to take on that challenge?  It started at a friend's when one of the women said she was running the marathon and was up to seven miles in her training. I said I wanted to do that and my late husband said I wouldn't be able to do it. That was all I needed to hear. I've done two LA marathons, the first in 1999 and my second in 2001 when I was 72. I would have done more but my husband died and it would be too sad because my husband's not waiting for me. He made such a fuss and had lots of people at the finish line cheering for me. I want to do the New York marathon but I'll wait until my rotator cuff heals and until I fall in love and have someone waiting for me at the finish line.
How long have you been working out with Sonki?  Since May of this year.  I just completed my third 5-week session.
What do you like about Sonki Fitness Boot Camp and how has it affected your life?  I feel great after I do it. The gym is boring but boot camp isn't because Sonki changes things all the time. He knows what he's doing, he knows the body and he exercises every part of your body. He encourages you enough so you don't want to quit, and when you do well he compliments you and that's so important. Sonki's class is the best thing. Only with Sonki and kickboxing have I seen my body change the most. Now I get complimented on my tush. It's the first time in my life I've been given compliments on my tush.
Anything else you'd like to share?  I don't think anything is really fun in exercise unless you challenge yourself. Decide what you want your body to be and set goals and go for it. There's no way when you're fit and exercising that you can be depressed. So many people are getting high on caffeine, pills, cigarettes and alcohol and no drug can give you this kind of a clear high. Exercise makes your brain work better too. The bigger the job before you and the more work you have, the more you need to exercise. You may feel depressed at first in the class because you can't do something, but keep it up, go slowly and do what you can and you'll see yourself improving. You'll love it because you'll feel so much better.
(Interview by Julie Kirst)