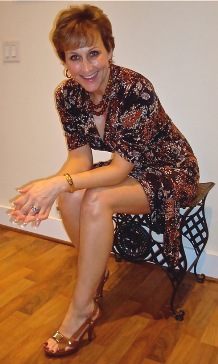 AGE:  49
PROFESSION:  Special Agent, FBI (21 years!)
HOMETOWN:  I am an Air Force and Civil Service brat, so I grew up everywhere but I claim Atlanta as my hometown.  I have been in LA though for the past 18 years, and that is the longest I have lived anywhere.  I love LA!
COLLEGE:  University of Georgia (B.S. Psychology)
FAVORITE FOOD:  Anything CHOCOLATE!!!!!!  Of course I can't go overboard on eating chocolate, or I would undo all that Sonki training!  I also love Ruth's Chris steakhouse steaks, but that is for special occasions!  I actually eat pretty healthy, but I do love pepperoni pizza occasionally.  Notice that broccoli wasn't on my list of favorite foods!
FAVORITE PLACE VISITED:  Granada, Spain and Thailand.
PLACE YOU WANT TO VISIT:  Tibet
FAVORITE MOVIE:  Several but I guess a few would be "The Ghost and Mrs. Muir"- 1947 version, "The Changeling" with George C. Scott and ANYTHING with Gene Hackman (Mr. Macho!!!!).
FAVORITE SINGER:  I have so many favorites — Aretha Franklin, Al Green, Buddy Guy, Marvin Gaye, Pink, Santana, etc.
HOBBIES:  Sonki Fitness!!!!!  Also, cycling, long walks with my dogs, and anything outside on a beautiful day!
What is your current exercise routine?  I try to attend a Sonki Fitness Boot Camp at least 4 days per week (6:30 am class) by going to the Santa Monica location on Monday's and Friday's and the Westwood location on Tuesday's and Thursday's (this class is led by Katie who is also fantastic!).  I sometimes attend the Saturday class as well, but when I don't I go for a run.  I also cycle time permitting.
What is your motivation to stay in shape?  I just turned 49 and want to be healthy and fit for many years to come.  I have always been active, so staying healthy has been a very important part of my life.  I also like the way my clothes fit and how I feel better overall. One of my biggest motivators is my husband.  He helps me get out of bed in the morning, and although he isn't a member of Sonki Fitness, he gets up and works out near me while I am doing my class.  Some people actually thought I had a stalker (LOL)!
What is your greatest challenge to staying in shape?  Getting up early!  If I don't do my workout first thing, it is very difficult to make myself go to class in the afternoon.  That is where my husband's help comes in handy when he pushes me out of bed in the morning.
What is your key to success?  As a co-worker used to say: "The 3 most important things to fitness are consistency, consistency, consistency!"   For me, the key is developing the habit of going to Boot Camp.  Even if I wake up and don't feel like it, I know I will feel better afterwards.  I just have to make myself go.  Now it is to the point where I don't want to miss Boot Camp.  I feel so much better when I am consistently attending.  I was sick recently with the flu and a sinus infection, and the worst part was missing classes.  The minute I got better, I was back at it!
What do you like about Sonki Fitness Boot Camp and how has it affected your life?  Sonki Fitness boot camp is by far the best fitness activity I have been involved in, and believe me, I have been involved in a lot of activities from martial arts, rock climbing, mountain biking to health club classes.  I love being outdoors, working out on the beach, and using the environment such as the steps to do our workouts.  Another thing I enjoy greatly is the camaraderie. Having grown up in so many different cities, I never really experienced that feeling of genuine camaraderie, so it is really motivating to go to class and bond with my fellow boot camp warriors.  And if you miss a class, they want to know why you weren't there!
What advice would you give to others about fitness?  Just do it! No matter what your size or fitness level, we all have to start somewhere. Don't compare yourself to others.  Sonki fitness is very supportive, and everyone helps each other to succeed.  Be happy and positive.  I am proud that I am 49 and out there sweating with all ages toward being healthy!
Any other comments?  I just have to mention that I originally chose to participate in Sonki's boot camp after a telephone conversation with Sonki about his program.  I was looking for a boot camp that would help my step-daughter (Amanda Selina), who was 17 at the time, get in proper shape as she was applying to the United States Naval Academy (USNA).  I had previously contacted another boot camp that was led by a former US Navy Seal but on the phone he seemed too intense and rigid. Then I saw that Sonki was a graduate of West Point so I contacted him and was impressed with his knowledge, encouragement and calm demeanor.  I was sold, and both Amanda and I signed up!  Thanks to his encouragement, Amanda is now at the USNA!  Of course Sonki still thinks that West Point is better, but it is a fun rivalry…