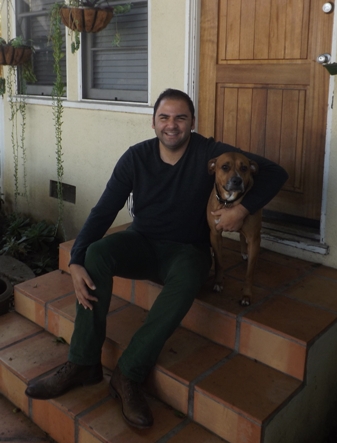 AGE: 33
PROFESSION: Student
HOMETOWN: Santa Ynez, CA
COLLEGE: Cal State Northridge & Antioch Los Angeles
FAVORITE FOOD: Steak and Potatoes
FAVORITE PLACE VISITED: Ireland
PLACE YOU WANT TO VISIT: India
FAVORITE MOVIE: Coming to America and La Bamba
FAVORITE SINGER: Robert Plant & Mr. Otis Redding
HOBBIES: I enjoy playing and watching soccer, camping, road trips, and traveling.
BACKGROUND: Growing up I was very active and played competitive sports until the age of 20. After stopping in my twenties, I became lazy and would only exercise seriously for a few times a year and never stuck with anything long term. I started Sonki Fitness about three years ago and since then I have lost weight and gained a lot of strength. My energy level has also increased since starting, and it's allowed me to enjoy other activities like playing sports and hiking. I'm still a work in progress and have not reached all of my fitness goals, but I'm in a better place than I was before.
What is your current exercise routine? Sonki Fitness 3-4 times a week. Basketball and hiking usually on the weekends.
What is your motivation to stay in shape? I'm a type one diabetic, and exercise has always made life easier for my condition. I also enjoy feeling well and healthy.
What is your greatest challenge to staying in shape? I have a hard time with self-motivation and getting up in the morning.
What is your key to success? Just show up!
What do you like about Sonki Fitness Boot Camp and how has it affected your life? I love that we get to exercise outside in one of the most beautiful settings in the world. I also enjoy the whole group component of the class. And I've met so many amazing people who help me stay motivated.