AGE:  26
PROFESSION:  Marketing/Social Media, TOMS
HOMETOWN:  A small beach town in Florida
COLLEGE:  Florida State, go 'Noles!
FAVORITE FOOD:  Granny Smith apples and pizza (not together…)
FAVORITE PLACE VISITED:  Cape Town, South Africa
PLACE YOU WANT TO VISIT:  Too many to list.
FAVORITE MOVIE:  Point Break
HOBBIES:  Cooking, traveling, re-decorating and re-arranging my apartment (thanks to a patient boyfriend!)
BACKGROUND:  I've never been a runner, so it felt awesome to shave a minute off my mile time as a result of my Sonki Fitness training. It took a couple of sessions, but it happened to my amazement. I also feel incredibly stronger mentally—the best feeling is wanting to work out instead of dreading it.
What is your current exercise routine?  I attend Sonki Fitness 3 times a week and aim for a short run or something active on weekends.
What is your motivation to stay in shape?  First, I have so much more energy when my body feels good. Second, it's nice to have the confidence to go try new things—like paddle boarding, a tough hike, or a new yoga class–without being worried if I can hang (physically) or not.
What is your greatest challenge to staying in shape?  Work…but you just have to set boundaries.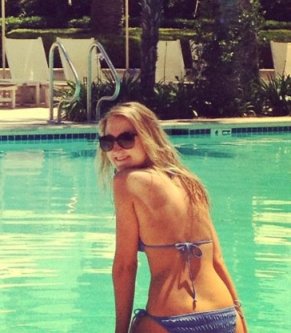 What is your key to success?  Recognizing how great I feel on days I work out.
What do you like about Sonki Fitness Boot Camp and how has it affected your life?  A consistent work out routine with cool people and an energized trainer on crisp LA mornings, 3 times per week, truly makes me look forward to moving my body. I never thought I would crave working out…but it's actually happened.
What advice would you give to others about fitness?  You gotta start somewhere. I was by far the slowest and least athletic chick in class when I started Sonki Fitness. But I kept with it. I improved. I feel better. I feel stronger. And it's now become a way of life.