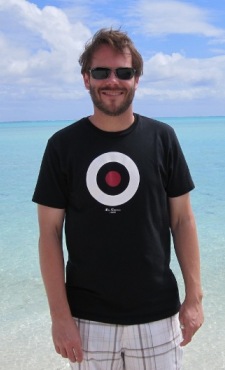 AGE:  37
PROFESSION:  Visual Effects Editor
HOMETOWN:  Harrisville, RI
COLLEGE:  Ithaca College
FAVORITE FOOD:  Beer. Not that mass produced yellow swill, good California craft beers!
FAVORITE PLACE VISITED:  For very different reasons, Bora Bora and Hong Kong.
PLACE YOU WANT TO VISIT:  Scandinavia.  I pine for the fjords!
FAVORITE SINGER:  It changes all the time, but I can't go wrong with the Chemical Brothers.
HOBBIES:  Reading, video games, and running.
BACKGROUND:  I remember reading the All-Star bios on the Sonki Fitness website before I decided to sign up. Many of them talked about being active earlier in their life and wanting to get back into it, wanting to change up their gym routine, or taking their fitness to the next level. None of this described me. Outside of youth soccer, I had never been very active. I was usually among the last to get chosen for teams in school, and I'd more likely be found playing video games, watching movies, or reading. After a few failed attempts at getting my flabby self into a gym, as my wedding quickly approached, I thought it was boot camp or bust. Well…I've lost 44 pounds in the last year and a half since joining Sonki Fitness!
When I started Sonki Fitness, I could barely finish the first mile I ran in class. Since then, I've run a handful of 5K's and recently beat my goal of finishing under 25 minutes. Most importantly, I feel absolutely great!
What is your current exercise routine?  My wife Fei and I attend around 4 – 5 Sonki Fitness classes a week. We also add in a longer run or two as well as yoga occasionally.
What is your motivation to stay in shape?  I've seen how being fit and healthy has helped my mom recover from a major surgery and fight off cancer. Her strength through adversity gives me strength. Additionally, I have seen changes in my body in the past year and a half that I honestly never thought possible. The drive to see what I can accomplish next continues to push me.
What is your greatest challenge to staying in shape?  The aforementioned beer doesn't help. LA has such a thriving and interesting food and craft beer scene that Fei and I are always up to trying something new. Trying to balance healthy nutrition with a love of creative (and not always healthy) food can be difficult.
What is your key to success?  I always create new goals for myself and then push in every class to meet those goals. I started by wanting to lose weight for my wedding. Then I wanted to get less than 7 minutes in the mile run.  After that, I wanted to get toned for my Tahiti trip. Most recently, I aimed at running a 5K in under 25 minutes. My next goal is to run my first 10K.
What do you like about Sonki Fitness Boot Camp and how has it affected your life?  The fact that the classes are outside and not in a stuffy gym has made a huge difference to me. Sonki, Katie, and Mike have constantly pushed me and encouraged me to get to the next level. Katie specifically showed me how giving 100% in every exercise really makes a difference. Also, going to every class with my wife makes it more fun!
What advice would you give to others about fitness?  I've found that setting goals for myself keeps the workouts interesting and me motivated. Having a concrete goal works well for me rather than an abstract notion of wanting to be "more fit." This may sound cliché, but honestly if I can do it ANYONE can!
Any other comments?  I just want to sincerely thank Sonki Fitness for completely changing my attitude about exercise. I used to dread it, but now I crave it!