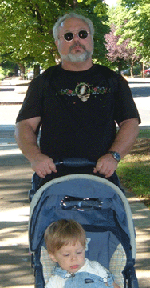 AGE:  53
PROFESSION:  Attorney
BACKGROUND:  Born in Connecticut, Bill moved to California in 1972.  He has a BS in Business Administration from CSUN ('85) and a JD from UCLA School of Law ('93), and is currently working as an attorney for his own practice.  Bill Joined Sonki Fitness in Jun of 2005 and has attended every single session since.  So far, he's lost over 17 pounds, 7% body fat, and 4 inches off his waist, and shaved nearly 3 minutes off his mile time!  Bill is a true testament to the adage, "hard work pays off."  He may not be the fastest, fittest, or youngest but is arguably the most dedicated, as evidenced by his near perfect attendance record.  As a result, his admirable success has been directly proportional to his efforts.
What is your current exercise routine?  I attend Sonki Fitness Boot Camp about 4-6 times a week.  Occasionally, I hike or do the stairs.
What is your motivation to stay in shape?  I promised myself I would get in shape by the time I was 40.  I'm now 53.  I won't say it's now or never.  But never is getting closer.
What is your greatest challenge to staying in shape?  My weight.  It's hard to do all the cardio stuff being so heavy.  Imagine running around the track carrying a sack of cement.
What is your key to success?  The key to my success at Boot Camp:  JUST SHOW UP.  Getting there is the most important part, although grumbling helps a little.  The key to my success at life: still looking!
How long have you been doing Sonki Fitness Boot Camp?  19 weeks.
What do you like about Sonki Fitness Boot Camp and how has it affected your life?  I like Sonki Fitness Boot Camp because a) it has fit so easily into my life; b) because it's challenging; and c) because everyone is so supportive.  Getting back into shape has made me feel a lot better about myself.
What advice would you give to others about fitness?  Join Sonki Fitness!
Any other comments?  When I started your Fitness Boot Camp back on June 20, 2005, I had been mostly sedentary for over 3 years.  I weighed over 230 pounds (I am only 5' 6 ½" tall) and had 31% body fat.  At the beginning, I could not even jog around the ¼ mile track even 1 time without stopping to rest.  After three full 5-week Boot Camp sessions, I have lost 17 pounds and my body fat is down to 24%.  I have also lost about 3-4 inches off my considerable waist.  But more importantly, I have become much stronger.  I am 53 years old, so getting back in shape is harder and takes longer than when I was 23, or even 33.  But the progress has been steady, and I am very pleased with the results.  I am committed to attending as many classes as I am able through the end of 2006 (!) in order to meet my fitness goals of weighing 170 pounds, 15% body fat, 32-34 inch waist, and able to run (at least) an 8 minute mile.  Boot camp is my number one priority.  Just ask my poor, neglected clients!
You know, Sonki, my entire life I have hated exercise.  It's always been a chore.  But, despite myself, I sometimes have fun!  You are great and my fellow boot camp warriors are very supportive.  This is the very best thing I have done for myself in years.  Thank you.