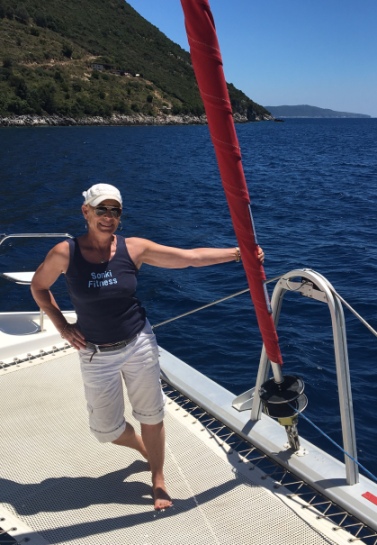 AGE:  62
PROFESSION:  Computer scientist
HOMETOWN:  Thessaloniki, Greece
COLLEGE:  University of Wuerzburg, Germany
FAVORITE FOOD:  Whole lamb on a giant skewer over open wood fire
FAVORITE PLACE VISITED:  Herrieden, Germany
PLACE YOU WANT TO VISIT:  Kenya
FAVORITE MOVIE:  The Great Escape
FAVORITE SINGER:  Haris Alexiou (greek pop)
HOBBIES:  Cooking, hiking, sailing.
BACKGROUND:  I started doing gymnastics at an early age but eventually rowing became my favorite sport, which I did competitively for many years in high school and beyond.  In the last 8 years, boot camp and tennis have been a big part in my life.  My biggest athletic failure? Skiing –  I am afraid of heights.
What is your current exercise routine?  Sonki Fitness 3 times a week.  And daily walking/hiking on local trails with my husky Sierra.
What is your motivation to stay in shape?  To be physically and mentally fit.
What is your greatest challenge to staying in shape?  Rolling out of bed on a cold, gray, wet morning.  But I am getting better at becoming an all-weather Sonki Fitness Warrior.
What is your key to success?  Consistency, consistency, consistency.  The body is unforgiving if you let it go.
What do you like about Sonki Fitness and how has it affected your life?  I like the balanced all body routine in a fantastic outdoor setting surrounded by a group of equally motivated people you share sweat and laughs with.  Sonki has the gift to push you slowly but surely beyond what you think your limits are – and this without major suffering.  I would have never thought that my running (my weakest point) would improve so dramatically in such a short time with Sonki Fitness.  My reward in working out with Sonki is feeling good and strong which positively affects my life and relationships.
What advice would you give to others about fitness?  Make exercise and wellness a high priority in your life.  Your body and mind will thank you for many, many years to come!