Brian Hollowaty (Jun 2008)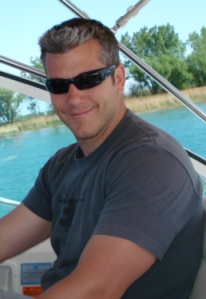 AGE:  31
PROFESSION:  President of a Wine Export Business (www.beverlyhillspurveyors.com)
BACKGROUND:  Growing up in Michigan, I spent my childhood playing most team sports (baseball, football, basketball). In high school, I had a series of three back surgeries all a year apart (due to a herniated disc). The last surgery was very successful, but it left me in state of cautiousness when it came to working out. The last thing that I wanted was to have to go through any more surgeries. I guess I probably used this as an excuse at times as well. I spent the next eight years working out and staying in "decent" shape, but only scratching the surface of my true potential. When I moved to California, I started putting myself to the test doing more intense activities (kayaking, surfing, mountain biking, and beach volleyball). My back felt great, and I was having the time of my life!
I found Sonki Fitness about a year ago, and it's been incredible. It's been a great vehicle for me to go to the next level. When I signed up, I was a little concerned in reading about the fitness evaluation with sit-ups, pushups, and the mile run. I would rank these three exercises right up there with going to the dentist…probably worse! These were always the "punishment" exercises that my coaches made us do when we lost games. Throughout this past year, I actually have come to enjoy these exercises (sick, I know). I started out running a mile in 7:45 and now am at 6:10 with a goal of 5:55 in the next evaluation.
Since joining, I've dropped 20 pounds and leaned out quite a bit. My goal is to be less than 10% bodyfat in the next 30 days.
What is your current exercise routine?  I currently do Sonki Fitness Boot Camp five days a week. I usually do a few hikes and at least one 30 mile bike ride throughout the week as well. I also try to do at least one yoga class each week to keep flexible. In the summer, I play beach volleyball, surf, and kayak as well.
What is your motivation to stay in shape?  My main motivation is that amazing feeling I have when I am in shape. I am absolutely on fire after a great workout…it's like a drug to me. When I feel good physically, every other aspect of my life clicks. I am an entrepreneur who travels extensively, so it's imperative that I feel good, have high energy, and stay focused. Boot camp really helps me in all of these areas, and it helps me to start my day early.
What is your greatest challenge to staying in shape?  The Wine Business!! My challenge over the past five years involved extensive travel to China, and namely, the four hour dinners every night during my trips (which I can't resist). Now, I am doing the same trips, same dinners, but also doing wine tastings all day long!! It's a recipe for losing "All Star" status…
What is your key to success?  The key to my success has been setting goals, surrounding myself with people who are in better shape and more intense than I am. For me, I gain inspiration by seeing those who are "doing it". I have been slacking on signing up for my first triathlon in the coming months, but talking to my buddy about his Ironman training puts it all in perspective and makes it far less intimidating.
How long have you been doing Sonki Fitness Boot Camp?  I have been doing it for the past year and a half.
What do you like about Sonki Fitness Boot Camp and how has it affected your life?  It's a group class, but it's also very personal. Sonki does an incredible job of making it very personal. It really is like having your own coach, and this has made all of the difference for me. It's very easy to slack off when you do self-guided workouts, but Sonki (and Katie and Kristin) really push me to get better. I took him seriously when he said that he is our individual coach. I've shared my goals with him, and he's really pushed me to get to the next level.
What advice would you give to others about fitness?  My advice to others is to make it fun by surrounding yourself with others who are active. I've found that it's so much cooler to spend two hours of quality time hiking, biking, or surfing with a good friend than it is to sit in a noisy bar to catch up. You can still have the post workout beer, but it tastes that much better…
Any other comments?  I would encourage anyone and everyone to go on the Hawaii Fitness Vacation. It was the best vacation that I have been on!