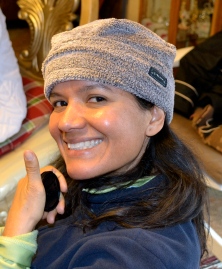 AGE:  39
PROFESSION:  Director of Residence Life at Mount St. Mary's College.
HOMETOWN:  Born in Moroleon, Guanajuato, Mexico.  Moved to LA when I was 5 years old.
COLLEGE:  Bachelors from Mount St. Mary's College, Masters from Azusa Pacific University.
FAVORITE FOOD:  I super love Thai and Indian food, yummy!
FAVORITE PLACE VISITED:  Yugoslavia and Fiji are two of my favorites.
PLACE YOU WANT TO VISIT:  The Seychelle Islands and Ireland.
FAVORITE MOVIE:  The Shawshank Redemption and The Notebook.
FAVORITE SINGER:  Bob Seger and Bob Dylan
HOBBIES:  I love being creative, so I dabble in jewelry making with beads and silver. I also love to paint, read classic books and go fishing (mostly freshwater).
BACKGROUND:  My love has always been running. It centers me and makes me feel connected to nature. I have run a total of 11 marathons. I have strong legs but a weak upper body until I joined Sonki Fitness. I am crazy in love with Sonki Fitness! After the first session, I knew this was something special. I felt stronger overall, and I was walking taller and standing straighter. I was even more convinced when people started commenting on my figure and my clothes started fitting better. I immediately signed up for the entire year. It has been 7 months, and I have gotten stronger, faster and have more energy than ever. I have been training for triathlons and trail races, and I have more endurance than ever before. I have set new PRs in all race distances since I joined Sonki Fitness. It has been pretty amazing what Sonki Fitness has done for me. Thank you Sonki for coming into my life!
What is your current exercise routine?  I have a goal to always be training for some kind of race as this keeps me motivated to stay conditioned. Recently I started trail running, and I am in love with it. I am always looking for a challenging trail race. The most crazy ones I have done are the Catalina Half Marathon, Mount Baldy 9 mile run to the top, and the Griffith Park Half marathon. These are crazy hard. I teach indoor cycling and advise a college running club for 7 months out of the year. I do Sonki Fitness 3 days a week, and run, bike or swim the rest of the week depending on what race I am training for. I also play table tennis twice a week and hike a few times a month. I absolutely love being outdoors.
What is your motivation to stay in shape?  I love feeling strong and in control of my body. It not only gives me energy but also makes me feel more confident.
What is your greatest challenge to staying in shape?  I sit for long periods of time in my job, so I wear a pedometer and am committed to walking 5000 steps during office hours. I have learned to get my exercise in in the morning so that I can be ready for whatever the day may bring.
What is your key to success?  Having a positive and a CAN do attitude. Not being afraid to try something new. Always reading some kind of motivational book. Currently I am reading The Greatest Salesman in the World by Og Mandino and The Power of Positive Thinking by Norman Vincent Peale.
What do you like about Sonki Fitness Boot Camp and how has it affected your life?  Sonki Fitness is awesome! I joined in January of this year in the hopes of getting stronger. It is amazing what Sonki Fitness can do for you if you commit, show up, and do your best. I feel this is just the beginning for me, and I hope to have Sonki Fitness in my life for a long, long time. I love to be around people that care about their health and find my Sonki Fitness friends to be just that.
What advice would you give to others about fitness?  See fitness as a necessity like brushing your teeth and eating.
Any other comments?  Find people that motivate you to be better and do better. And surround yourself with them, and you will see amazing changes in your life.