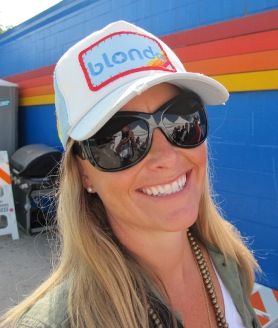 AGE:  35
PROFESSION:  Finance
HOMETOWN:  Santa Monica, California
COLLEGE:  Loyola Marymount University
FAVORITE PLACE VISITED:  Ireland and Peru
PLACE YOU WANT TO VISIT:  New Zealand
FAVORITE MOVIE:  Club Paradise
FAVORITE SINGER:  My Morning Jacket
HOBBIES:  Snowboarding, hiking, traveling, watching live music.
BACKGROUND:  My sister Virginia and I have been doing Sonki Fitness on and off since 2006! However, this past year I managed to do every single session including XT right before Christmas, which is a major accomplishment for me.  Through the
years I've realized that doing Sonki Fitness Boot Camp is hands down the only way that I stay in shape.  I've never been able to motivate myself at the gym to do half of the things we do in Sonki Fitness.
What is your current exercise routine?  Sonki Fitness Boot Camp 3 – 4 times a week with other activities mixed in on my days off (Hiking, spinning, tennis, etc.).
What is your motivation to stay in shape?  To be as healthy and active as my 91 year old grandfather who still works out almost every day.  He is a huge inspiration to me.
What is your greatest challenge to staying in shape?  Getting up at 5:50am to make it to the 6:30am class, especially when it's pitch dark and freezing outside.  But once I'm up, I'm ready to roll.  Also, trying to eat well and keeping the alcohol consumption under control – I like to party!
What is your key to success?  Staying focused and motivated.  I love working out with friends and my sister & brother.  It really helps to have a support group around you as we all motivate each other, ensuring no one slacks off.  I also try not to think of exercise as a chore.  I truly enjoy being active and always feel great after a workout. And…NO EXCUSES!  Just get out there!
What do you like about Sonki Fitness Boot Camp and how has it affected your life?  The things I best like about Sonki Fitness are the variety of exercise during each class and the camaraderie.  Working out alone is just boring.  At Sonki Fitness, we all motivate each other and try to make class as fun as possible.
What advice would you give to others about fitness?  You are given only one body in life, and it is absolutely crucial to take care of it.  I personally see no other way to live life than to be active and as fit as possible.  It's what keeps me sane!
Any other comments?  I want to personally thank Sonki for his encouragement and helping me to stay motivated over the years.  It's great to have a positive influence like
that in your life.  Up an inch down an inch forever!!!