Jennifer Smith (Jan 2014)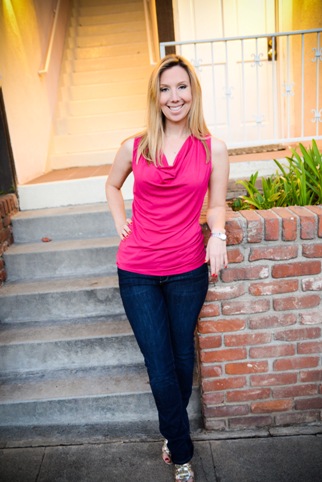 AGE: 34
PROFESSION: Diabetes Educator in Sales working for Medtronic
HOMETOWN: Santa Monica
COLLEGE: UC Davis
FAVORITE FOOD: Anything that tastes great! I'm still obsessed with Gjelina's Brussel sprouts
FAVORITE PLACE VISITED: I've been lucky enough to have traveled quite a bit. I lived in Germany for 3 years and did quite a lot of traveling throughout Europe. I've also visited Asia, Egypt, and Russia. But Kauai ranks as one of my top visited places. Its natural beauty is incredible.
FAVORITE MOVIE: Wet Hot American Summer
FAVORITE SINGER: The bands I'm listening to a lot right now are Vampire Weekend, Arcade Fire, Grouplove, Foster the People, and the Killers.
HOBBIES: Aside from Sonki Fitness (of course), I love spending time eating & drinking with my wonderful friends and family, going to new restaurants or bars, and wakeboarding in the summer time. Does napping count as a hobby?
BACKGROUND: I started Sonki Fitness about 6 years ago, where I would do a 5-week session and then go on a hiatus. I started getting serious about going regularly about 2 years ago when I wanted to beat my best marathon time. I found that the more I did Sonki Fitness, the better of a runner I became. I also noticed far less running-related injuries, which really helped keep me motivated to train for the marathon. To date, I've completed 4 marathons (and currently training for my fifth), and I really credit Sonki and his well-rounded strength training program for making me a stronger and faster runner, not to mention a happier and healthier person. I can also say I lost 10 pounds several years ago once I truly committed to attending Sonki Fitness regularly.
What is your current exercise routine? Since I'm training for a marathon, I do Sonki Fitness twice a week and run three times a week including a long run every Saturday.
What is your motivation to stay in shape? The desire to improve my marathon best time keeps me going, but vanity is also a good motivator!
What is your greatest challenge to staying in shape? Long days at work make it challenging to stay motivated, but I find that just showing up to class is more than half the battle. Once I'm there, I'm always glad I came.
What is your key to success? Having a fitness goal is a big key to my success.
What do you like about Sonki Fitness Boot Camp and how has it affected your life? First, I love having a regular class to attend because I would never have done "up an inch down an inch" on my own. Also, I love the camaraderie of Sonki Fitness! And the beautiful scenery of Palisades Park doesn't hurt either!
What advice would you give to others about fitness? Just show up. Seriously. Commit to a 5-week session and then try another.
Any other comments? To Sonki & the instructors: I'd like to personally thank you for all you've done for me and my health, and what you've done for so many others!