Jennifer Jones (Jun 2012)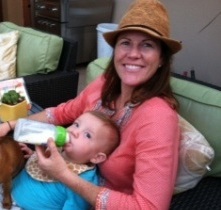 AGE:  Thirtysomething
PROFESSION:  TV Producer
HOMETOWN:  Fort Myers, Florida
COLLEGE:  University of Florida.  GO GATORS!
FAVORITE FOOD:  Italian…pizza, pasta, wine, etc.
FAVORITE PLACE VISITED:  Italy, Japan, Maui.
PLACE YOU WANT TO VISIT:  France, Bali.
FAVORITE MUSIC:  I work in music, so I love it all.  When I'm not working, some of the music I like to listen to are Jay-Z, Dave Matthews, Radiohead and I'm always down for some great Jazz.  The Spectrum on Sirius is also my jammy these days.
HOBBIES:  I love traveling, cooking, running, skiing and throwing parties
BACKGROUND:  I was always active growing up.  I took ballet, tap, & jazz classes for 10+ years.  I started gymnastics and competitive cheerleading in high school, and we had practice seven days a week.  I was definitely in the best shape of my life.  Once college came around, I continued to go to the gym, but the intensity and frequency was never the same.  There was way more pizza and beer in my life than exercise during that time.  Then after college, I lived in NYC for ten years where I was active but never saw any significant results from my workouts.  So when I moved to LA, I looked for a jump start.  I found Sonki Fitness, and my life has changed forever.
What is your current exercise routine?  Sonki Fitness Boot Camp 3 days a week, Power Yoga at least once a week, and a run at least once a week.
What is your motivation to stay in shape?  To keep a healthy lifestyle and feel good.  Fitness is such a great stress reliever for me.  And honestly, I've worked way too hard to let it go and start all over again.
What is your greatest challenge to staying in shape?  See Favorite Food above.
What is your key to success?  Attitude & consistency.  I definitely have a "ready to go/bring it on" attitude in fitness and in life.  And I never let more than a day or two go by without getting some sort of exercise.  It's a part of my life now and forever.
What do you like about Sonki Fitness Boot Camp and how has it affected your life?  I love it!!  There's nothing like it.  I feel so lucky to have found Sonki Fitness.  I really love working out outside and on the beach.  It's such an awesome way to start my day.  I've met so many great people in class.  Everyone is so supportive & friendly.  I also love the ability to challenge myself on a regular basis.  I was never a runner, and now I absolutely love it and run 5K & 10K races on a regular basis.
What advice would you give to others about fitness?  No matter what your fitness level or how many kids you have or how many hours you work, you still need to take time to take care of yourself.  Get out there and do something.  You will never regret taking care of yourself.
Any other comments?  Thanks Sonki, Lindsay and all of the Sonki Fitness Warriors for your support & dedication!