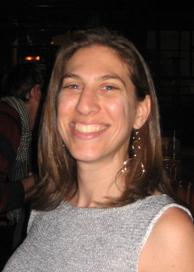 AGE:  34
PROFESSION:  Project Manager
HOMETOWN:  Los Angeles, CA
COLLEGE:  Brown University (undergrad) and UCLA Anderson (MBA)
FAVORITE FOOD:  Oaxacan food, Nachos
FAVORITE PLACE VISITED:  Berlin, Germany
PLACE YOU WANT TO VISIT:  Pretty much anywhere I haven't been, but Antarctica is at the top of my list.
FAVORITE MOVIE:  I have so many…it really depends on my mood. A few are The Warriors, Bottle Rocket, and Lock, Stock And Two Smoking Barrels.
FAVORITE SINGER:  Trent Reznor, Corey Taylor
HOBBIES:  Exploring Los Angeles (and the rest of the world), going to concerts and museums, appreciating mid-century modern architecture and design, as well as watching independent movies.
BACKGROUND:  I have loved playing a variety of sports since I was a little girl. In high school, I focused more on soccer and softball and then in college I played rugby. After college, I joined a number of soccer leagues in New York and worked hard to stay in shape so I could play at the level I wanted to. A few injuries along the way (and the rehab I had to do to recover) taught me the value of staying healthy and fit. When I moved to Los Angeles for business school, I fell out of my fitness routine, but after my first year, I knew I needed to get back into shape and found Sonki Fitness.
What is your current exercise routine?  Sonki Fitness Boot Camp on M/W/F. Outside of Sonki Fitness, I go for hikes or to a spin or yoga class once or twice a week with friends. I also go for daily walks around my neighborhood.
What is your motivation to stay in shape?  Staying healthy is very important to me. I've had a few serious sports-related injuries over the years. With each one, I spent a lot of time working hard to get healthy and fit again. It wasn't always fun or easy, but it did help me to realize that I'm happiest when I'm active and I want to stay that way.
What is your greatest challenge to staying in shape?  It seems to be school. The changes in environment, people, and expectations combine to take me out of my routine. I have different priorities which makes it difficult to carve out the time to exercise and eat well. I'm not planning to go back for another degree (yet), so I think I will be okay for a while.
What is your key to success?  My key to success is remembering that fitness is a lifestyle, not just a fad or a temporary activity. I know I need to make good decisions every day, both in exercise and nutrition. I may make some "less than optimal" decisions at times, but I don't let that derail me. I just remember that the better decisions add up over time to keep me healthy and happy.
What do you like about Sonki Fitness Boot Camp and how has it affected your life?  I started Sonki Fitness a year and a half ago with the goal of getting back into shape and becoming a healthier person. Pushing myself physically each week to get to the next level has helped me become a more resilient person in other aspects of my life as well. Even though I have always been active, the results I get from Sonki Fitness are so much more complete than the results I have seen at other points in my life. I have more energy and feel better, so it is easier to conquer the challenges I face in my everyday life. Sonki Fitness, and especially Katie and my fellow Boot Campers help keep me accountable and make things fun.
What advice would you give to others about fitness?  Fitness should be fun. Find something active that you enjoy doing and do it.  The best fitness routine is one that you will engage in consistently and that only happens when you like what you're doing.
Any other comments?  To Sonki and Katie – Thank You so much!