Ellee and Travis Tharp (Feb 2013)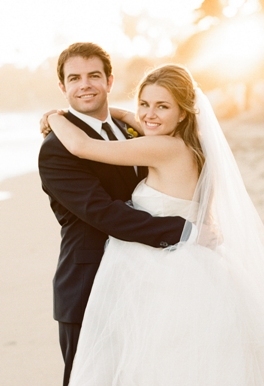 AGE:  32 (both)
PROFESSION:  Graphic Designer (Ellee), Tech Start-up (Travis)
HOMETOWN:  Originally London, but considers New York City her hometown (Ellee), Boulder, CO (Travis)
COLLEGE:  University of Delaware (Ellee), Northwestern University (Travis)
FAVORITE FOOD:  Chocolate (Ellee), Tacos (Travis)
FAVORITE PLACE VISITED:  We met in Vietnam,so that will always be a special place for us.
PLACE YOU WANT TO VISIT:  Africa and South America.
FAVORITE MOVIE:  About a Boy (Ellee), Eurotrip (Travis)
FAVORITE SINGER:  Too many to list (Ellee), Dierks Bentley (Travis)
HOBBIES:  Skiing, snowboarding, surfing, biking along the strand, and cooking.
BACKGROUND:  We decided it was time to get in shape right after we got engaged in November 2011. We both wanted to look our best on our wedding day which was only a short 6 months away in July. Neither of us had worked out consistently in years and pretty much started at zero fitness level. Needless to say the first couple months of doing Sonki Fitness were very challenging. Travis, having been a collegiate athlete bounced back much quicker and was soon running a 5:45 mile! I (Ellee), on the other hand, still have a long way to go but can't believe how far I've come. Going from dreading exercising to enjoying it is a huge success! We have both continued with our Sonki Fitness Boot Camp even after getting married. What started out as a quick way tone up for our wedding has become a workout routine that we both really enjoy.
What is your current exercise routine?  Sonki Fitness three days a week, and something active on the weekends.
What is your motivation to stay in shape?  Keeping the pounds off, and staying healthy physically and mentally.
What is your greatest challenge to staying in shape?  Pushing ourselves out of our comfort zone. Making it a top priority amongst work, life and play.
What is your key to success?  Not missing any Sonki Fitness classes.
What do you like about Sonki Fitness Boot Camp and how has it affected your life?  We feel much stronger physically and mentally. We love the supportive attitude and friendliness of everyone in the group.
What advice would you give to others about fitness?  If you are starting from ground zero, hang in there as it gets better! You have to stick with it and once you realize what your body can do, it's actually fun!