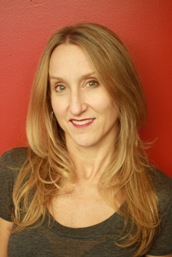 AGE:  43
PROFESSION:  Freelance writer. Lately you can find me at ecosalon.com where I write about design and architecture (www.ecosalon.com/author/kim-derby/).
HOMETOWN:  Pacific Palisades. I was born in Santa Monica at Saint John's and am a 5th generation Californian which is a rare breed. I lived in Washington DC for five years right after college and loved it, but the warm weather lured me back home.
COLLEGE:  USC
FAVORITE FOOD:  Probably Italian, although I love all food except Chinese and meat. I don't eat meat or chicken.
FAVORITE PLACE VISITED:  Majorca, Spain (an amazingly pristine, perfect island off the coast of Spain).
PLACE YOU WANT TO VISIT:  Turkey. One of my very best friends lives there now so I'm planning a trip for next March or April.
FAVORITE SINGER:  I can't choose just one so here are a few: Fargo, American Beauty, The Conversation, Best in Show. But I've never seen Titanic or Forrest Gump, so that should tell you something.
HOBBIES:  I play tennis and I'm pretty good (so don't ask me to play unless you're good). I love mid-century modern architecture – Rudolph Schindler, Charles & Ray Eames, Pierre Koenig, Richard Neutra are some of my favorite architects. I love to travel. I love art and going to galleries and museums. I'm passionate about animals and volunteer at dog rescues whenever I can. And my niece and nephew – they are the loves of my life.
BACKGROUND:  My friend Kate brought me to my first Sonki Fitness Boot Camp class in October 2009 and told me I'd have no problem because I could run 5 miles easily.  I've always been athletic – I snow ski, hike, run, play tennis, yoga – so I did think I was in pretty good shape. That is…until about half way through my first class when I  thought I was going to puke. So I signed up for my first five week session and cut my mile by 20 seconds. But it's my tennis game that really showed me how much my fitness improved since starting boot camp. I'm faster getting to balls I couldn't get to before (thank you incline sprints!). My footwork is crazy good because my legs are stronger and my stamina has increased. My coach does this 12 ball drill with me where he stands mid-court and hits balls around the court in rapid succession. One day he looked at me as I was catching my breath (which also happens much more quickly) and said, "I don't know this Sonki guy but I LOVE him. You are a totally different tennis player than you were 6 months ago." Since then, each time I make a great shot or outdo myself in some way, he says "thank you Sonki!"
What is your current exercise routine?  I do Sonki's 6:30am class in Santa Monica three days a week and Katie's Westwood class once a week plus her Saturday 9am class.  And I play tennis at least once or twice a week. I'll do yoga once in a while but should definitely go more. The one area I tend to neglect is stretching.
What is your motivation to stay in shape?  Endorphins which is the best drug ever. And my tennis game. Also, I'm so close to breaking a 7 minute mile (this is my next challenge). And I love a good challenge.
What is your greatest challenge to staying in shape?  Time.  Getting up at 5:30am and working all day, and then getting home at 7pm isn't easy. But doesn't someone we know well say "good pain equals good gain?" I know I've heard that somewhere before…
What is your key to success?  Consistency and discipline. And my addiction to endorphins.
What do you like about Sonki Fitness Boot Camp and how has it affected your life?  I feel stronger, physically & mentally, than I did at the age of 25. I love exercising outdoors near the beach, and it helps me to have someone push me to work harder. I'm hooked on starting my day this way. I can't imagine ever going back to a gym! I've been addicted to a few things here and there – now I'm addicted to Sonki Fitness. 🙂
What advice would you give to others about fitness?  Being fit helps me in every aspect in my life. I'm more confident and mentally alert. I have more energy. I'm a better tennis player and all around athlete. It isn't just about being thin or a size 2. I think many women are confused about this unfortunately. Having muscle definition and being strong is where it's at! Also, if you're new to working out and ready to give up, stick with it for at least a month. It will be really hard up until that point, and you might not feel or see a change, but push through that initial rough period and it is so worth it!