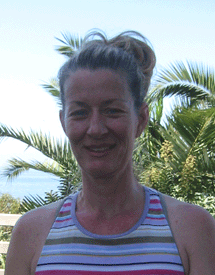 AGE:  46
PROFESSION:  Nursing Student
BACKGROUND:  I have had a lot of changes in the past 3 years.  I started a career change from a fraud investigator to a Nurse Anesthetist.  It has been a difficult 3 years, and I started Sonki Fitness to help me lose weight, deal with the stress and feel better.  In February 2006, I joined Sonki Fitness Boot Camp.  Since joining Boot Camp, I have lost 20 pounds and quit smoking.  I recently had a physical, and my blood pressure was 98/62 and my pulse was 60.  I also just got accepted to nursing school.
How long have you been working out?  I have been working out consistently since 2000, but I was only working out 3 days a week at the gym.  The cardio workout with Sonki has helped me improve my cardio fitness and I have added more rigorous cardio workouts at the gym that I avoided before.
What is your current exercise routine?  I currently workout with Sonki 4 days a week and go to the gym 2 days a week.  I rarely miss any days during the week.  If I have to miss Sonki, I work out at the gym.
What is your motivation to stay in shape?  My motivation to keep in shape is being able to lose and maintain my weight so I can wear the clothes I like, keep my blood pressure and pulse at a healthy level and have more energy.  I am going to be a nurse, and I want to set a good example for my future patients.
What is your greatest challenge to staying in shape?  My greatest challenge to staying in shape is the cardio workouts.  I have never really liked to run, but now that I am getting in better shape, I am getting faster and the running is getting a little easier.
What is your key to success?  I keep going to my workouts.  I force myself to go even on the few occasions I don't feel like it or want to sleep in because I know when I get there I will be glad I didn't skip it.
How long have you been doing Sonki Fitness Boot Camp?  I joined Sonki Fitness Boot Camp in February, 2006 and have been with the program ever since.
What do you like about Sonki Fitness Boot Camp and how has it affected your life?  I like Sonki Fitness Boot Camp because there is a supportive atmosphere, and there are people of all ages and fitness levels.  Working out with Sonki, I feel so much better about myself, I am healthier and I have a lot more energy throughout the day.
What advice would you give to others about fitness?  It is difficult to get into a new routine especially if you haven't worked out on a regular basis before, but if you just keep going (even when you don't feel like it) it gets much easier and becomes a part of your life (you will miss it when you don't exercise).