Christine Kessler (Apr 2015)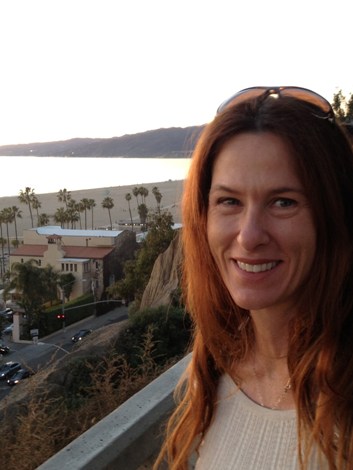 AGE: 48
PROFESSION: VP, Accounting at Cinelou Films
HOMETOWN: Santa Monica
COLLEGE: LMU
FAVORITE FOOD: Sushi
FAVORITE PLACE VISITED: Germany
PLACE YOU WANT TO VISIT: Thailand
HOBBIES: Hiking, leisurely bike rides, gardening, and hanging out with my dogs.
BACKGROUND: Health and fitness have always been an important part of my life and family (I am the mother of two grown sons). As such, I have always emphasized eating healthy foods and have almost always stayed active in one way or another (bike riding, roller skating, fast-paced walking, running, hiking, etc.). I tend to better stick with a workout regime if it's outdoors. I recently returned to Sonki Fitness after a long hiatus during which I got married, broke my arm, and injured my lower back. Getting back in shape after the injuries was quite a challenge and my usual go-to exercises weren't working (or at least not as quickly as I would have liked them to). I passed by one of Sonki's classes on my early morning walk during the holidays and decided on the spot that I would return to his boot camp. I am extremely happy that I did! Since my return, I've lost a few pounds but more importantly I feel stronger and have more energy.
What is your current exercise routine? I work out three mornings a week with Sonki (after which I typically walk 2 miles with my dogs) and walk, hike, or bike ride most of the other days.
What is your motivation to stay in shape? My main motivation is to keep my body strong. I have had neck and lower back issues and have learned that staying strong prevents them from becoming symptomatic.
What is your greatest challenge to staying in shape? Sometimes I just want to be super lazy, which I can do very well.
What is your key to success? Getting up and going – whether it's to a Sonki Fitness class, on a hike, or on a walk.
What do you like about Sonki Fitness Boot Camp and how has it affected your life? I LOVE that it is outside! I am a big fan of being outdoors early in the morning – doing sit ups looking up at treetops and blue skies and running on the beach are awesome perks while working out. Also, Sonki is a fantastic motivator and has a great repertoire of exercises. Every time I leave, I feel as though I've really had a good workout.
What advice would you give to others about fitness? Make the most of whatever you are involved in. Workouts are only an hour or so of your time, so push as hard as you can every time keeping in mind that some days will be easier than others.