Kate Sauerhoff (Apr 2010)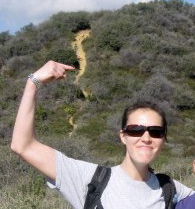 AGE:  26
PROFESSION:  Middle School Science teacher and Volleyball Coach
HOMETOWN:  St. Louis, MO
COLLEGE:  Williams College
FAVORITE FOOD:  Anything Mexican (and vegetarian)
FAVORITE PLACE VISITED:  Right where I am. I love Southern California. It used to be my vacation, and now it's my home!
PLACE YOU WANT TO VISIT:  Hawaii (coming up in August 2010!)
HOBBIES:  Beach volleyball, hiking, cooking
BACKGROUND:  I've played sports my whole life and love to workout. I played volleyball and was a rower in college, so after I graduated I needed something that would keep me in shape that worked with my busy teaching schedule. I tried a boot camp when I lived in Kansas City, which I thought was just OK, but once I moved to LA I wanted something better. With Sonki Fitness, I improved my overall fitness level from college and feel much stronger. I think the greatest benefit of Sonki Fitness Boot Camp for me has been improving my confidence; I feel like I can do anything.
What is your current exercise routine?  Sonki Fitness Boot Camp 4 times per week. In the summer, I increase that to 5 times per week.
What is your motivation to stay in shape?  Look good in my bikini! I play beach volleyball, and there is a lot of moving and bouncing around. Everything needs to stay tight, if you get my drift. Even if I don't play for a while and come back to the game, I am fit enough to keep up because Sonki's workouts are so hard.
What is your greatest challenge to staying in shape?  Convincing myself to go to 6:30pm boot camp after a long day of teaching, especially on Friday's.
What is your key to success?  Sonki and his trainers. I think they've found a direct channel to my head because I can just hear him telling me to go, go, go even when I think I'm too tired.
What do you like about Sonki Fitness Boot Camp and how has it affected your life?  Sonki Fitness has changed my life since I moved out to CA. I feel more confident mentally and physically in every way. I'm amazed everyday that one change (Sonki Fitness) could have such a huge impact. I think of my life as "life before Sonki" and "life after Sonki" (AS). The "AS" part has been awesome! I really appreciate what Sonki and his trainers do and am thankful for having him as our friend, leader and inspiration!"
What advice would you give to others about fitness?  Find something you love to do and fun people to be around. Sonki Fitness is great because the trainers are always so happy and the group is fun to be around.
Any other comments?  If you're thinking about it, just make the commitment and sign up for a year. I'm so glad I did. Also, the bands we use make great gifts!