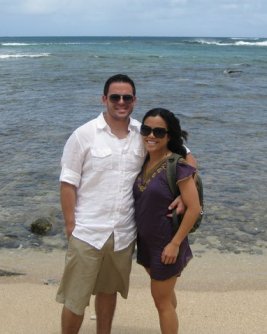 AGE:  29
PROFESSION:  Attorney
HOMETOWN:  Phoenix, AZ
COLLEGE:  Northern Arizona University
FAVORITE FOOD:  Chinese
FAVORITE PLACE VISITED:  Costa Rica
PLACE YOU WANT TO VISIT:  Australia and New Zealand
FAVORITE MOVIE:  Memento, Indiana Jones trilogy, James Bond films.
FAVORITE SINGER:  Foo Fighters
HOBBIES:  Bar trivia, stickball, reading, watching movies.
BACKGROUND:  I ran cross country and track in high school, and enjoyed exercising and staying in shape throughout college and law school.  However, once I got my first job out of law school, the stress and long hours got to me and I started packing on the weight.  At my heaviest I was 210 lbs.  I used a friend's wedding in Hawaii as an excuse to get back in the gym and lost about 20 lbs before the wedding.  Unfortunately, after the wedding I got burned out training at the gym and started putting the weight back on.  I knew I needed something different to get me inspired and motivated again.  Luckily, I discovered Sonki Fitness!  Since joining, I've lost 10 lbs and more importantly, I've started enjoying exercising again.  Now, I look forward to working out with my class and have started running 5K races again.
What is your current exercise routine?  I attend Sonki Fitness on Monday, Wednesday, Friday and Saturday.  On Tuesdays and Thursdays, I do 45-60 minutes of cardio before work.
What is your motivation to stay in shape?  My upcoming wedding next year and improving my mile and 5K time.
What is your greatest challenge to staying in shape?  My fiancée and I both love food and snacking, so when we are together, we sometimes make bad eating choices.  Also, when my friends and I hang out, it's usually over a couple (or more) beers, which can add up quickly!
What is your key to success?  It's a cliché, but I make working-out a regular part of my daily routine, to the point that I feel off if I don't get some kind of exercise every day.  I also try to work out before work, when I'm fresh and the day's stress hasn't hit me yet.  That way, if something comes up at work and I have to stay late, I've already done my workout for the day and don't have to stress about skipping it.
What do you like about Sonki Fitness Boot Camp and how has it affected your life?  Sonki Fitness has really helped me enjoy working out.  I enjoy the variety of the exercises, and having my classmates there to push me to go harder and farther really helps.  Additionally, I get to target all muscle groups (like my core, which still needs some work!), which wouldn't be the case if I were simply lifting weights at the gym.
What advice would you give to others about fitness?  There are no shortcuts to fitness, and you won't see results overnight.  You have to make a healthy diet and exercise a part of your daily routine.  You have to put in the work to earn the body you want.