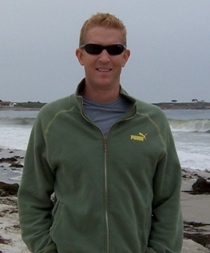 AGE:  36
PROFESSION:  Production Manager (Disney/ABC)
HOMETOWN:  Born in Idaho, but grew up in Northern California (Livermore)
COLLEGE:  Arizona State University
FAVORITE PLACE VISITED:  Prague, Czech Republic
BACKGROUND:  I have been working out at the gym for years, but not long ago the same routine started becoming less and less appealing to me.  I didn't have the motivation to go as much as I once did and knew that I needed to find something else to keep my interest, but I didn't know what.  Around that time, a friend of mine from work told me about Sonki Fitness.  She said that she and her husband had started going and really enjoyed it.  I tried my first class soon after.  That was about a year and a half ago, and I've been hooked ever since.
What is your current exercise routine?  I go to the Sonki Fitness Boot Camp morning class three days a week, hit the gym once or twice a week and try to fit in a hike on the weekend.  On a very rare occasion, I'll even do the Santa Monica stairs.
What is your motivation to stay in shape?  It is really amazing how much more energy I have during the day when I get up early and work out compared to the days I sleep in.  Also, I suffer from bouts of insomnia and it is much easier for me to fall asleep at night if I've had a good work out that morning.
What is your greatest challenge to staying in shape?  Shin splints.  I've got them and can't seem to get rid of them.  Running has been rough at times, but they are better now than they were a year ago.  I've been implementing a lot more stretching into my workouts and that seems to have helped.
What is your key to success?  Consistency.  When I slip out of my routine for any length of time for any reason (vacation, illness, etc), it seems like it is twice as hard to get started again.  I try to keep going and make exercise part of my schedule no matter what.
What do you like about Sonki Fitness Boot Camp and how has it affected your life?  Hands down the best part of the class has to be the people.  From the trainers to the people in class, everyone is friendly and supportive.
What advice would you give to others about fitness?  Find some kind of exercise that you enjoy doing and can easily fit into your lifestyle or you will find excuses to not do anything at all.  Make it fun!