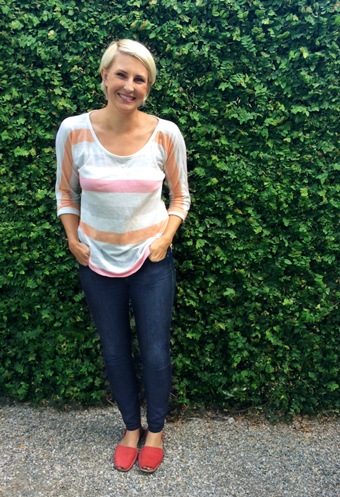 AGE: 25
PROFESSION: Art Producer / Advertising
HOMETOWN: Huntington Beach, CA
COLLEGE: University of California Santa Cruz. Go Banana Slugs!
FAVORITE FOOD: Anything spicy…ramen, pozole, curry, bbq, etc.
FAVORITE PLACE VISITED: New Zealand, Samoa, Brazil.
PLACE YOU WANT TO VISIT: India, Thailand, Japan, Bali.
FAVORITE MOVIE: Tie between Godfather, Godfather II (definitely not III), Casino, and Amelie.
FAVORITE SINGER: Currently my girl Bey (Beyonce).
HOBBIES: Painting, surfing, & exploring new places.
BACKGROUND: I grew up at the beach and have always been really active in and around the ocean. I played water polo and swam competitively in high school. After college and traveling, I settled down at my current office job where I spent a lot of time in front of a computer and not that much time working out. After many late nights and eating whatever was available from catering on productions, I felt sluggish and weak. I wanted to regain some control of my health and feel better, so I joined Sonki Fitness for my first 5 week session, and I've been hooked ever since. I've noticed a huge improvement in my strength and endurance, and I've dropped my mile time from 10 minutes to just around 7 minutes! I love getting to work in the morning knowing I've already been outside, laughed with friends, and completed an intense workout. It's also been great to experience the added benefits of exercise like sleeping better, having more energy, and feeling less stressed out throughout a hectic day.
What is your current exercise routine? My current routine is Sonki Fitness in the morning on Monday, Wednesday, & Friday's. On Tuesday & Thursday mornings, I take an early yoga class. On Saturday & Sunday's, I like to be outdoors so lately I've been surfing in the mornings or hiking with friends in the afternoon. At some point in the week I like to swim, so I've been trying to get in the pool as much as possible.
What is your motivation to stay in shape? My greatest motivation to stay in shape is to be able to do the things I love physically. Having the endurance to keep up with my friends and family during fun activities is extremely rewarding. Before Sonki Fitness, I would tire so quickly when surfing with my dad, and now I can spend hours catching wave after wave together.
What is your greatest challenge to staying in shape? Eating out instead of cooking at home. Living in LA, it's very hard to pass up an opportunity with my friends who are going out to dinner or getting drinks on any given night of the week. However, my favorite meals are when we all contribute ingredients and cook together somewhere, so I'm hoping to incorporate more family style dinners into my routine.
What is your key to success? Having a good attitude and getting enough sleep in order to make those early morning workouts!
What do you like about Sonki Fitness Boot Camp and how has it affected your life? I love having a routine and starting my day doing something healthy. Sonki Fitness has made that really easy for me. It's motivating to see the same group of wonderful, smart, and busy people all committed to getting to class and pushing themselves hard during workouts. I also love that I am challenged every class with something different – just when I think I've mastered an exercise, Lindsay will add a modification and I am so sore the next day (in a good way). I feel so much stronger and happier overall since starting Sonki Fitness.
What advice would you give to others about fitness? Take up a fitness program you've always wanted to try. When you find a workout you like, you'll find ways to fit it into your schedule no matter how busy you are.
Any other comments? Thank you Sonki for providing such an awesome program! And thank you Lindsay for always pushing me when I need it and telling me to breathe. 🙂