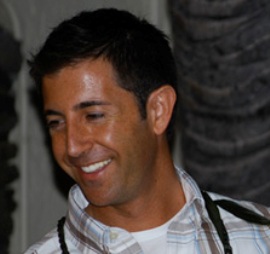 AGE: 35
PROFESSION: Director/Editor
HOMETOWN: LA, California
COLLEGE: UC San Diego
FAVORITE FOOD: Sushi (Sasabune), donuts (Stan's donuts), spaghetti (Scarpetta), burger (Umami)
FAVORITE PLACE VISITED: Siena, Italy
PLACE YOU WANT TO VISIT: Japan, Thailand, Brazil
FAVORITE MOVIE: Die Hard, Amelie, Fight Club, Airplane, Tropic Thunder
FAVORITE SINGER: Mariah McManus, James Morrison, Adele, Florence+The Machine, The Weeknd
HOBBIES: Art/design, fitness, softball, listening to music (and live music), TV/film, seeing stand-up comedy
BACKGROUND: I am somewhat of a Sonki veteran (as this is my second "tour of duty", speaking in Army terms), but it had been a three year hiatus from my previous workout stint to my current reinstatement. I had never been in better shape than when I was training with Sonki, and I never forgot that.
In the years away from Sonki, I would exercise sporadically and claim that I was going to start working out more consistently on my own, but it was just too tough to motivate myself out of the funk I was in. Also, when I did exercise, it was a bit aimless and ineffective. I wasn't really pushing myself to my limit and I seemed to be working out just for the sake of doing it and without any specific goals in mind (which, unsurprisingly, didn't lead to any sort of fitness gains). And so, I realized that I needed to return to Sonki, and fast!
Well, speaking of fast, it has been four (short) months and I feel as though I am NOW in the best shape of my life! I've followed Sonki's instruction to a "T" and it has really paid off, physically and mentally! I can remember doing the ranger run during my first week back, running from the beach back up to the grass while clutching a towel with a partner, and having Walter literally drag me up the stairs while I repeated, "I'm gonna let go! I have to let go!" over and over. Now, just four Sonki sessions later, I'm usually the one motivating someone else up the stairs and it feels amazing to be in a position to help others improve as well!
I credit Sonki (and the entire Sonki fitness crew) for my speedy transformation and look forward to going "up an inch, down an inch" with everyone for years to come! (…and definitely a big thanks to Lindsay for helping me dip below the 6-minute mile!)
What is your current exercise routine? Sonki Fitness three days a week…with yoga, running, and hikes sprinkled in for good measure.
What is your motivation to stay in shape? It feels great, it's fun, and I know it's good for me!
What is your greatest challenge to staying in shape? See my answer regarding my favorite foods above!
What is your key to success? Always set goals and always have fun!
What do you like about Sonki Fitness Boot Camp and how has it affected your life? It's a great, supportive environment with inspiring people pushing themselves to improve everyday. And I feel like I owe it to them to push as hard as I can to improve as well!
What advice would you give to others about fitness? The more you do it, the more you'll want to do it!