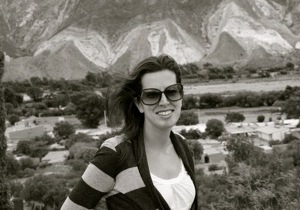 PROFESSION: Marketing
HOMETOWN: Pittsburgh, PA
FAVORITE FOOD: Any type of cheese.
FAVORITE PLACE VISITED: Laos, Vietnam, India, Namibia, and Antarctica.
PLACE YOU WANT TO VISIT: Burma, Bhutan, more of India and the Maldives.
FAVORITE MOVIE: Love Actually
FAVORITE SINGER: Radiohead
HOBBIES: Traveling, cooking, skiing, hiking, trying new restaurants.
BACKGROUND: I started Sonki fitness three years ago.  I've always been a runner and have completed half & full marathons, but before Sonki Fitness I hadn't done much cross training and was starting to slack on my runs.  Sonki Fitness provides great motivation to get in better shape and through Sonki Fitness I am stronger, healthier and the fittest I've ever been.  I'm training for a half marathon this fall and know that with Sonki Fitness, I will be in better shape than doing training runs alone.
What is your current exercise routine? I do Sonki Fitness three times a week and supplement with running, hiking or yoga.
What is your motivation to stay in shape? I love eating and trying new restaurants so it's important to stay in shape.  Plus, it's hard not to get motivated once you are out there on the beach watching dolphins swim by as you do squats & sit-ups.
What is your greatest challenge to staying in shape? My greatest challenge is not pressing the snooze button on Sonki days.  Sometimes it's hard to wake up so early to work out, but I'm always happy that I got a great workout first thing in the morning.
What is your key to success? Keeping a routine and staying motivated by all of the people in the class.  It's great seeing familiar faces every morning and knowing we're all in it together.
What advice would you give to others about fitness? Create a routine and stick with it.