Mark Kickbusch (Mar 2013)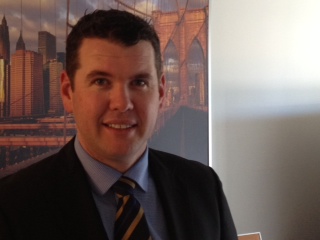 AGE: 34
PROFESSION: Ex-detective. Now working Public Safety at Pepperdine.
HOMETOWN: Clermont, Australia
COLLEGE: Institute of Financial Services
FAVORITE FOOD: Steak
FAVORITE PLACE VISITED: Positano, Italy
PLACE YOU WANT TO VISIT: Peru
FAVORITE MOVIE: Shawshank redemption
FAVORITE SINGER: Ben Harper
HOBBIES: Golf and socializing.
BACKGROUND: I started Sonki Fitness because I had become lazy and gained some weight as a result of moving to the US. Since starting Sonki Fitness, I have lost over 25 pounds and have regained my fitness level that I thought I would never get back.
What is your current exercise routine? Sonki Fitness three days a week.
What is your motivation to stay in shape? My motivation is to never let myself get out of shape to that extent again ever.
What is your greatest challenge to staying in shape? The biggest challenge I have is all the socializing I do with my friends and the visitors from Australia.
What is your key to success? My key is seeing the results and the way I view myself now after working out.
What do you like about Sonki Fitness Boot Camp and how has it affected your life? I have always struggled training by myself, so training with Sonki Fitness is great because Sonki provides a great atmosphere and program. And the people I train with are wonderful folks who are all happy to be there.
What advice would you give to others about fitness? I would recommend Sonki Fitness to everyone. That little bit of effort has produced awesome results for me!