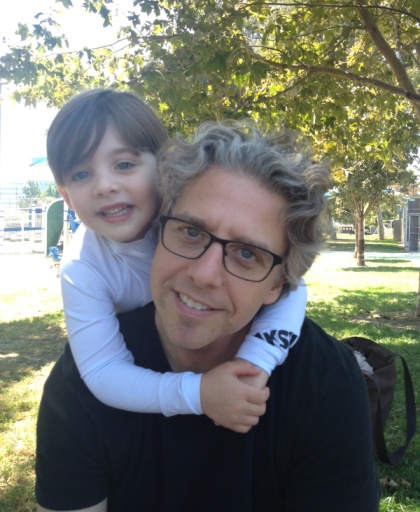 AGE: 48
PROFESSION: Architect
HOMETOWN: Brooklyn, NY
COLLEGE: Univ of Michigan (undergrad); Univ of Penn (grad school)
FAVORITE FOOD: Italian
FAVORITE PLACE VISITED: Paris, Tokyo.
PLACE YOU WANT TO VISIT: Spain
FAVORITE MOVIE: Master and Commander
FAVORITE SINGER: Radiohead
HOBBIES: Listening to music (wannabe musician); product and furniture design.
BACKGROUND: I've never considered myself naturally athletic, but I've been able to stay somewhat fit through most of my adult life – running, biking, eating well, etc. That is until I became a new father and tore a meniscus five years ago. So two knee surgeries and one child later, I found myself out-of-shape, low on energy, and inactive. Rejoining Sonki Fitness this summer has instantaneously turned that around and restored my mindset to be active and enjoy a hard workout.
What is your current exercise routine? Sonki Fitness three times a week.
What is your motivation to stay in shape? I have a young child at home who's getting more energetic by the day that I've got to keep up with!
What is your greatest challenge to staying in shape? Bum knee.
What is your key to success? Having a trainer, a class, and a structured environment to keep me disciplined.
What do you like about Sonki Fitness Boot Camp and how has it affected your life? I like not having to think through a workout, obeying the directions, concentrating on the exercises, and pushing through the pain. And I love the camaraderie. It's one of the most relaxing parts of my days (even though it's boot camp) because I can turn my brain off and just work hard.
What advice would you give to others about fitness? It's easier to consistently exercise, eat well, and maintain healthy habits when done all together.