Matt Robinson & Sunny Levine (Jun 2010)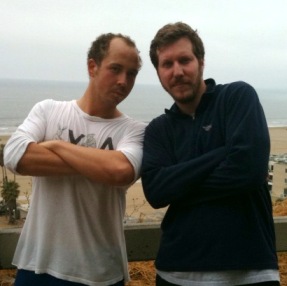 NAME:  Matt Robinson & Sunny Levine (Sonki Fitness BFFs)
AGE:  Both 31
PROFESSION:
Matt – Writer (wrote and co directed "The Invention of Lying")
Sunny – Record producer/Musician (has produced records for the Happy Mondays, Pete Yorn and Scarlett Johanson, Mickey Avalon, and Ariel Pink)
HOMETOWN:  Both from LA
COLLEGE:
Matt – Sarah Lawrence College
Sunny – a very small amount of Cal-Arts
FAVORITE FOOD:
Matt – Cheesecake Pancake sandwich at IHOP
Sunny – Espresso
FAVORITE PLACE VISITED:
Matt – Tuscany
Sunny – Cantabrian
PLACE YOU WANT TO VISIT:
Matt – Japan
Sunny – Tahiti
FAVORITE MOVIE:
Matt – Pat Garrett & Billy the Kid
Sunny – Bugsy Malone
FAVORITE SINGER:
Matt – Bob Dylan
Sunny – Bill Withers
HOBBIES:
Matt – Watching movies.
Sunny – I make hand crafted elaborate birthday cards.
What is your current exercise routine?
Matt – Sonki's boot camp three days a week and the occasional run on off-days.
Sunny – Sonki Fitness and I also ride a bicycle as my main means of transportation
What is your motivation to stay in shape?
Matt – Having more energy throughout the day and feeling great.
Sunny – To feel as much like a ninja as I possibly can without actually going thru all the trouble of being a proper ninja.
What is your greatest challenge to staying in shape?
Matt – Those Cheesecake Pancake sandwiches at IHOP.
Sunny – Working late nights and still having the drive to wake up at 7AM.
What is your key to success?
Matt – Just work hard and love what you do.
Sunny – As long as you show up and do the workouts you see amazing results.
What do you like about Sonki Fitness Boot Camp and how has it affected your life?
Matt – I like that it gets me out of bed at 7:15AM and gets my heart pumping. I like being outdoors and on the beach. And I like the way Sonki runs the class!
Sunny -The class is so well rounded and somehow a lot of activities gets bundled into that 1 hour. And voila, you are done…all fit and energized for the rest of the day. I've lost 20 pounds and 3 pant sizes since I started training with Sonki. Shy of messing up my active pant ratio, it has improved my quality of life greatly. I feel like a super champ and in comes thru in all aspects of my life.
What advice would you give to others about fitness?
Matt – Seriously, stay away from the Cheesecake Pancake Sandwich at IHOP. They're bad news.
Sunny – Get yourself in good shape, it's worth it. And find something that is enjoyable to do so that you are excited and look forward to your fitness routine.
Any other comments?  We have known each other since we were about fourteen years old. We went to high school together and have been very close friends for over fifteen  years now. We are the founding members of a comedic hip-hop group called the Trilambs. We have both lost a good deal of weight during our time with Sonki — about fifteen and twenty pounds each. We are both in top form and get to spend three mornings a week together doing Sonki's class. We are proud to be All-Stars and we plan to carry the title with honor and grace. But heavy hangs the crown…