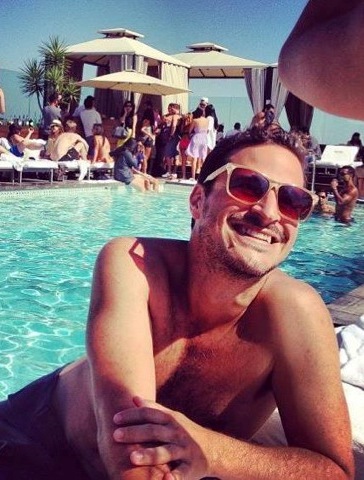 AGE: 39
PROFESSION: Film composer
HOMETOWN: St. Croix, U.S. Virgin Islands
COLLEGE: Princeton University (Bachelors in Music Composition), Berklee College of Music (Certificate in Film Music)
FAVORITE FOOD: Beer
FAVORITE PLACE VISITED: London
PLACE YOU WANT TO VISIT: Tahiti
FAVORITE MOVIE: American Beauty
FAVORITE SINGER: Ella Fitzgerald
BACKGROUND: I've lost 25 lbs and 5 inches off my waist in 10 weeks since joining Sonki Fitness. I feel great!  My goal is to lose 40 lbs by the time I turn 40 in December. I'm more than halfway there…
What is your current exercise routine? I exercise 6 days a week with Sunday's off. Sonki Fitness on M/W/F/Sat, tennis on Tuesday's and Culver City stairs in Thursday's.
What is your motivation to stay in shape? Health, and looking good in my clothes!
What is your greatest challenge to staying in shape?  Not drinking beer!
What is your key to success?  Weigh yourself every day. Same time each day. It's okay to have ups and downs but if you are trending in a certain direction it will become clear after 3-4 days and you can make adjustments to your regime faster. I always gain weight when I stop weighing myself.
Also, don't confuse thirst with hunger. Stay hydrated and you will crave less food.
What do you like about Sonki Fitness Boot Camp and how has it affected your life?  I think besides the physical fitness, it's made me mentally tougher. I am willing to work harder and strive for perfection. The results are so fast in Sonki Fitness if you really apply yourself. And it's a good metaphor for life and career.
What advice would you give to others about fitness? Stick with it. Be as active as you can and always challenge yourself to stay present in the moment and really concentrate on the exercise.
Sonki is an inspiration to everyone, and he walks the walk and talks the talk. When we have a long run day, he's up ahead leading pace and his own fitness level is an inspiration for the whole class.