Brian Philpott (Oct 2011)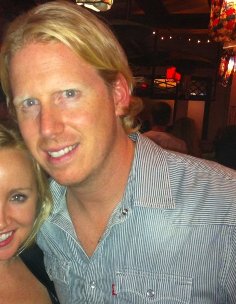 AGE:  33
PROFESSION:  Attorney (Intellectual Property)
HOMETOWN:  Tulsa, OK
COLLEGE:  Oklahoma State University
FAVORITE FOOD:  Cajun
FAVORITE PLACE VISITED:  Nimes, France.
PLACE YOU WANT TO VISIT:  Outer Space. If not there, then maybe Australia.
FAVORITE MOVIE:  Sometimes "Dances With Wolves," sometimes "Almost Famous."
FAVORITE SINGER:  Sometimes Willie Nelson, sometimes Frank Sinatra.
HOBBIES:  Darts, quantum physics, leg throw-downs, and brunching.
BACKGROUND:  Growing up in Oklahoma, one of the best ways to stay out of trouble was to play a sport or seven, so I was always very physically active. But in the last few years as my job became increasingly demanding, I found that my fitness level was paying the price. When I was younger I always had someone there to push me (usually a coach), so getting back into a supervised routine has been the key to my success. Sonki Fitness has been tremendously impactful. Aside from the weight that I've lost (over 30 pounds) and the strength/endurance that I've gained (2:00 minutes faster on my mile time), I seem to have more energy throughout the work day and sleep better at night. Maintaining a good fitness level has always been important to me, and I feel much better having reclaimed that aspect of my life.
What is your current exercise routine?  I normally only run when chased, so I rely primarily on steady regimen of Sonki Fitness to keep me in shape. I also play in basketball/soccer/flag football leagues to trick myself into some extra cardio during in the evenings.
What is your motivation to stay in shape?  Someday, I want to appear shirtless in one of Sonki Fitness calendars. If I can't get July though, I'm not doing it. Another reason to work out is so that I can eat whatever I want.
What is your greatest challenge to staying in shape?  It's always a challenge to roll out of bed at 6:00am to make the early morning sessions, but give me two minutes to wake up and I'm ready for Sonki Fitness to kick start my day. Also, another major challenge is that I have a penchant for fried things with ranch dressing on them, which certainly isn't gaining me any health points.
What is your key to success?  Showing up.  Even if I don't feel like killing myself on any given day, I know I can still make progress by just getting there and participating.
What do you like about Sonki Fitness Boot Camp and how has it affected your life?  Sonki Fitness has reintroduced some much needed morning discipline into my life.  If I didn't have to be at Palisades Park by 6:30am, I would probably hit Snooze 6-7 more times per day. I've also really enjoyed getting to know my fellow boot camp warriors.  There are lots of good folks in Sonki's classes.
What advice would you give to others about fitness?  Don't get discouraged, stay the course, and most importantly be punctual. If you are frequently late to class, Sonki will make you do extra mountain climbers.  Some people don't know that, and extra mountain climbers suck.