Julie Nickerson (Feb 2009)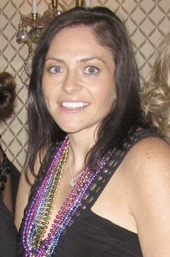 AGE:  32
PROFESSION:  Client Service Associate/Investment Funds
HOMETOWN:  Hull, MA
COLLEGE:  Salem State College
FAVORITE FOOD:  Chicken, broccoli, ziti in a wine sauce
FAVORITE PLACE VISITED:  Bahamas
PLACE YOU WANT TO VISIT:  Australia
FAVORITE MOVIE: Field of Dreams
FAVORITE SINGER: Eddie Vedder
HOBBIES:  Hiking, boot camp, sun bathing (w 30spf), skying with my niece Lily Kate
BACKGROUND:  I found Sonki Fitness about a year ago while running around Playa Vista with my friend Chrissy. We went to the website and signed up right away. I've always been active, playing field hockey and softball throughout high school and even a year in college. But in college, instead of gaining the freshman 15, I put on the freshman 60.  That year, I was a bridesmaid in my aunt's wedding and got fitted for a bridesmaid's dress. A few months later, I tried on the same dress and had to ask the seamstress to add material to it. It was a difficult situation to face. That was when I decided that I had to do something about my weight. That was 13 yrs ago. Today I'm 100 pounds lighter, and I feel the best I have ever felt in my life. It has been a long road (none of this "Biggest Loser" training – kind of jealous though). As "they" say, the more steady the weight comes off, the more likely you are to keep it off for life. I trained for a half marathon in 2006 and finished that in 2 hrs 20 minutes, that was one of the best accomplishments of my life. The inside of a gym doesn't do it for me anymore. I'm very grateful for "running" into Sonki.
What is your current exercise routine?  I attend Boot Camp 3-4 times week, hike Temescal Canyon, run around Brentwood, and walk to Starbucks.
What is your motivation to stay in shape?  My motivation is looking and feeling healthy. It has been a long road to get to where I am right now. I want to stay this way and never look back (at the old, not so pretty pictures). Having people notice my weight loss is a great self-esteem boost (which is always a plus on the dating scene and starting that conversation with a guy). When they ask what I do, I direct them to the Sonki Fitness website.
What is your greatest challenge to staying in shape?  The most challenging aspect of staying in shape is trying to have a social life while working out and working in general. You have to fit some sort of activity in at least 4-5 days a week to keep up with what you're putting into your body.
What is your key to success?  Staying active, eating healthy and drinking plenty of water is definitely a big key. I know it's the everyday generic lingo, but it's very true. Also, having friends to motivate you and work out with is a great tool.
What do you like about Sonki Fitness Boot Camp and how has it affected your life?  Sonki & Katie have affected my life in all different aspects. I have never felt better and I realize how much you can push yourself for that extra 5 seconds when exercising. I like the challenges of working out each class…you never know what you'll get each time. All of the Sonki Fitness trainers that I have worked with want you to succeed and stay motivated. They are very supportive with each person and push you to get the most out of each exercise. Also, I have met many great people whom I'm happy to call great friends.
What advice would you give to others about fitness?  Exercise is what you put into it.