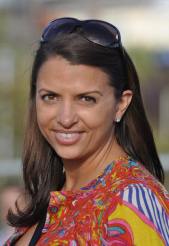 AGE:  36 and holding
PROFESSION:  Lawyer (litigator at a large law firm)
HOMETOWN:  LA
COLLEGE:  University of San Diego and Loyola Law School
FAVORITE FOOD:  The shorter list is of non-favorite foods. Put it this way, I even like sardines, anchovies and Vegemite (perhaps not all at the same time). But, if I have to choose – pizza and chocolate cake.
FAVORITE PLACE VISITED:  Italy
PLACE YOU WANT TO VISIT:  Thailand
FAVORITE MOVIE:  The Godfather
FAVORITE SINGER:  Probably no one single favorite. Eddie Vedder, Dave Matthews, BB King (seeing a trend of raspy-voiced guys here?)
HOBBIES:  Anything that involves Tiki (my miniature Australian shepherd) – hiking, walking, road trips. Also love to cook and putter around in the yard.
BACKGROUND:  I was a multi-sport athlete in high school and played soccer in college.  After college, I played a lot of tennis but in an on and off manner.  I also cycled a lot but when I moved back to LA, I moved away from my cycling group.  I had a gym membership for years and years but never quite enjoyed working out in a gym.  When I arrived at Sonki Fitness in June 2007, I had zero upper body or core strength.  I only managed 17 sit-ups in 2 minutes and shuffled that first mile somewhere north of 9 minutes.  I was mortified.  Now I consistently knock out 50+ sit-ups and run my mile in under 8 minutes.  My arms are toned.  Life is good.
What is your current exercise routine?  Sonki Fitness on Tues/Thurs mornings with Katie, daily hour long walks or hikes with Tiki
What is your motivation to stay in shape?  Gravity.  Being single and 36 in LA.  Having a very stressful and demanding career.  Those that can't keep up simply get left behind.  I think that applies to all of my reasons (gravity, singleton status and career).
What is your greatest challenge to staying in shape?  I have segments of time where I travel a lot for work.  Eating right and getting in exercise while on the road is difficult.  When I get in to one of these ruts, it is really easy to let things go.  The upside is that I know Katie and the rest of the Westwood crew will be there waiting for my return.
What is your key to success?  In 2 years of doing Sonki Fitness, I've turned off the alarm only two times.  Once it was raining (but I still haven't heard the end of it from some) and the other I just had to sleep.  So, the key is not to allow sleeping in be an option!  Big picture, my key to success is just staying focused on my goals.  Long work days are much easier when your pants aren't too tight!
What do you like about Sonki Fitness Boot Camp and how has it affected your life?  I love (not like) that for that hour I can be outside in the most supportive environment imaginable and just be myself!  How many adults get to do relay races regularly and run in the mud?  Sonki Fitness has given me a great gift – time for me!  I'm always challenged at class and never cease to be amazed at Katie's sincere enthusiasm for all who attend.  Sonki Fitness also has affected my life by increasing my mental toughness.  I have more confidence and increased focus on my goals.  And, I'm happy to report, Sonki Fitness appears to be staving off gravity.
What advice would you give to others about fitness?  Don't fight it.  Learn to love it.  You simply must make fitness a part of your life because it makes everything possible.  If you are in shape, your fears are greatly diminished.
Any other comments?  "Do or do not…there is no try."  ~ Yoda