Ashley Jackson (Jun 2013)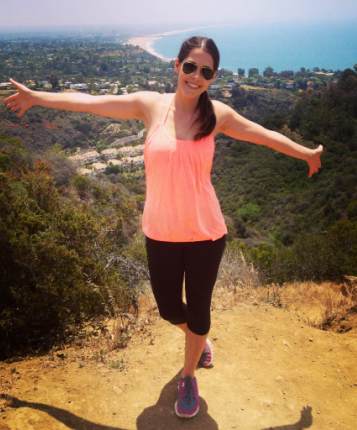 AGE: 23
PROFESSION: Advertising
HOMETOWN: Riverside, CA
COLLEGE: UCLA
FAVORITE FOOD: PIZZA – all the time any time. Other favs: bánh mì, pad thai or an In'n'Out burger and fries.
FAVORITE PLACE VISITED: Costa Rica
PLACE YOU WANT TO VISIT: Thailand, Bali.
FAVORITE TV SHOW: Downton Abbey
HOBBIES: Being outdoors as much as possible – whether it's working out, doing yoga or just being at the beach, cooking healthy, laughing and spending time with my friends and family.
BACKGROUND: I've always been petite and ate healthy enough, so I never worried too much about my fitness. However, after I graduated college I started to notice that I had gained a little bit of weight and was losing the petite figure I always had. I practiced yoga or went on runs here and there, but realized that it just wasn't enough – the cellulite was spreading, and it was spreading fast! I needed to kick it up a notch and make a commitment to a healthier lifestyle for both mind and body – enter Sonki Fitness. I never thought I could actually be one of those people who gets up at 6am to work out, but I made a promise to myself to give it my best. So much so that during my first session the only class I missed was because of a violent stomach illness, and even then I still wanted to go! Fast forward 8 months later, my attendance isn't as spot on, but I am amazed at how much I've grown physically and mentally. I've actually gained 5 pounds (of muscle!!!). I'm leaner, more toned and feel happier. I can do push-ups, planks and run like I haven't in years! I'm definitely proud of myself.
What is your current exercise routine? Sonki Fitness 3x a week, along with some type of other activity on the off days – Santa Monica stairs, yoga, soccer, beach cruising, or hiking!
What is your motivation to stay in shape? To feed my mental health and to look good in a bikini. 🙂 And just knowing how important it is to my health in reducing the risk of cancer and disease helps too!
What is your greatest challenge to staying in shape? Making time for fitness around work and social priorities. Oh and cupcakes.
What is your key to success? I found a fitness routine that I look forward to doing and I have a lot of fun with it – then the rest is easy!
What do you like about Sonki Fitness Boot Camp and how has it affected your life? What I love most about Sonki Fitness is that it pushes me harder than I would ever push myself on my own and I dont have to worry about figuring out what to do for a work out. That, coupled with the fact that its consistent and easy to commmit to, are what make it so perfect for me. The beautiful backdrop of the Santa Monica beach and ocean isn't so bad either! There isn't a Sonki session where I don't leave feeling refreshed and ready to take the day on.
Not only does my body look better, but I've realized the biggest effect Sonki Fitness has had on my life is that it has helped me make time for myself and become more independent. It's time I spend away from friends, family and work that I do just for me. And since I'm waking up earlier, it's like I've added bonus time into my day for me to let go of stress and worries and focus on myself.
What advice would you give to others about fitness? No matter what negative things you tell yourself, you CAN do it! Everything is a choice and fitness is an easy and fun one to make.