Jeremie & Kris Winslow (Sep 2010)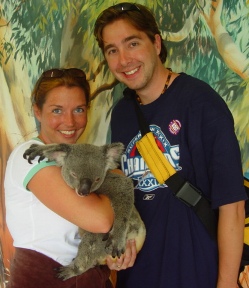 AGE:
Jeremie – A gentleman never asks and a lady never tells.
Kris – I actually agree with my husband on this one.
PROFESSION:
Jeremie – Senior Digital Production Manager for Sony Pictures Imageworks (yes I felt the need to add "senior").
Kris – Psychotherapist
HOMETOWN:
Jeremie – Hanover, Massachusetts (The South Shore of MA, just a little south of Boston)
Kris – Various towns in RI and MA.
COLLEGE:
Jeremie – University of Massachusetts, Amherst
Kris – UMASS Amherst for undergrad and MBA. Pepperdine for MA. Still haven't attended a school with a good mascot.
FAVORITE FOOD:
Jeremie – Mashed potatoes.  I love mashed potatoes. My dad makes the best mashed potatoes. They'll kill you, but man they're good. Kris also makes a kick-ass chicken Milanese.
Kris – Anything Italian Or with cheese in it. Preferrably both. Right now I'm obsessed with Caprese salads.
FAVORITE PLACE VISITED:
Jeremie – Australia. That's where I'd move if I had to leave the US. No question.
Kris – Green Island on the Great Barrier Reef in Australia. I liked Sydney too. And pretty much any island I've been to. Hawaii, Fiji, Martha's Vineyard.  Stick me on an island and I'm generally a happy camper.
PLACE YOU WANT TO VISIT:
Jeremie – Europe. Never been. Want to see all of it.
Kris – Italy first. Ireland. Scotland.
FAVORITE MOVIE:
Jeremie – This changes every day. Inception was great. Christopher Nolan can do no wrong in my book currently. I've watched The Hangover at least once a week lately too. Is that wrong? I just love movies.
Kris – Right now? The Hangover. It makes me laugh every time I watch it. Of all time? Many contestants for different reasons: To Kill a Mockingbird, Braveheart, Shawn of the Dead, The Natural, Rear Window, Snatch, Jaws, On the Waterfront, Caddyshack. Pretty much anything with Bill Murray in it…
FAVORITE SINGER:
Jeremie – Singers are overrated. Guitarists are where it's at. The Edge, Eric Johnson and Angus Young are a few of my favorites. I have a very…let's say eclectic taste in music.
Kris – My favorite band since I turned 10 has been U2. Like lots of music though. Listened to Bob Marley and Social Distortion on the way to work today.
HOBBIES:
Jeremie – Running triathlons, most team sports, movies, video gaming. I like the sun. I like doing things which allow me to be out in the sun.
Kris – Reading, Anything Arty, Skiing, Snorkeling, Cooking, Swimming. Watching movies. Taking random walks. Travel. Creating half-finished knitting projects. Beer. 🙂
JEREMIE
BACKGROUND:  I've always been a pretty active person.  I've always enjoyed playing sports and no matter what I do I have an overzealous sense of competition.  I play lots of different sports at all kinds of different levels but recently I've started doing sprint triathlons.  The training I was doing to stay in shape for these was getting kind of boring and I wasn't really seeing the results I wanted.  A friend who had just started Sonki Fitness suggested that I give it a try.  I was tentative because I do NOT like getting up early.  Over a year later, I'm still here and going strong.
What is your current exercise routine?  I go to Sonki Fitness 3 times a week.  On top of trying to hit the gym twice a week too, I try and work in regular biking, swimming and running on my own as well.  Sometimes I don't know why.
What is your motivation to stay in shape?  I just like being fit.  I refuse to be one of those people that just get old and overweight.  I like playing sports and I like winning.  Being in good shape helps keep me stay competitive.  Did I say I was competitive?  I'm a little competitive.
What is your greatest challenge to staying in shape?  As much as I like staying in shape, I'm really good at talking myself out of exercising.  I can always rationalize something better to do, even if it's just sitting on the couch.  The need to stay competitive (there it is again) and disapproving looks from Sonki when you miss class are good motivations.  🙂
What is your key to success?  I'll let you know when I figure it out.
What do you like about Sonki Fitness Boot Camp and how has it affected your life?  I like that we're exercising outside, especially during the summer and I really like the full body aspect of the workouts.  I also enjoy that it's something that Kris and I now do together.  That makes it more fun.  I also have to say that I'm probably in the best shape I've been in years.  Getting up early in the AM isn't as bad as it used to be either.  I'm not saying that part is ideal, but I'm getting better at it.
What advice would you give to others about fitness?  Do what makes you happy.  I enjoy the things I do and I like the way they make me feel.  That might not be for you so find your own way.  If you enjoy what keeps you in shape, you will enjoy staying in shape.  And don't be afraid to try new things.  You might just find that thing you were missing.
Any other comments?  Kris needs to work on her superplank form.  Sonki, can you make sure you take care of that?  (She is so going to kill me).  🙂  Oh, and some day for circuit training I want to provide the music.  Can that be my reward for being an all star?
KRIS
BACKGROUND:  I was born with leg and back problems, so I swam, rode horses and could dance a bit and not much else. I worked a bit with some doctors over the past couple of years.  Basically, the first mile I ran for my first Sonki fitness test, was the first actual mile that I have ever I have run and completed. As far back as I can remember anyway. I almost didn't even care that it took me almost 11 minutes to finish! Sometimes I feel like a little kid when I run because it is still pretty new to me. After a year of Sonki fitness I am still taking time off my mile and feel great most days. Now to beat my husband in a race… (anybody who has seen him run knows I'm kidding.)
What is your current exercise routine?  Sonki Fitness 3-4 days a week. Very occasionally 5 days a week.  I do random other activities in between. Recently ran my first 5K and looking for another one to run.
What is your motivation to stay in shape?  I live in LA. With the weather here there is no excuse not to be outside. Plus it feels good. I don't know how much weight I have lost, since I've never been a big fan of scales, but I keep on having to buy smaller pants. Which I think is a good sign. Also, Jeremie motivates me. His exercise habits are (usually) really good and I'd like to be able to keep up with him. And some day beat him at something. Even if it's bowling.
What is your greatest challenge to staying in shape?  My job can be exhausting, so I like to go home and just crash. Also, I don't like gyms or standing around waiting to use equipment.
What is your key to success?  Deep question. In regards to physical fitness I think I have some hustle. Personally, being resilient, being genuine, and having a good sense of
humor.
What do you like about Sonki Fitness Boot Camp and how has it affected your life?  I really like the fact that there is a variety of things that keep me going and motivated. The people in the class are always very encouraging and if I ever feel like slacking off, Sonki or Katie keep me pushing myself to do the best I can on that day. I always feel like there are more goals I can achieve, but I never feel frustrated or pushed to do more than I can handle.  Plus, there is nothing like being on the beach at sunrise while exercising and watching the dolphins.
Although, in all honesty, I am not fond of the stairs that we use to get to the beach or the really obnoxious squirrels that taunt us during class.  😀
What advice would you give to others about fitness?  Never thought someone would ask me this question! I have been at Sonki Fitness for about a year and still look forward to going even when it is tough to get early. I love that I don't feel guilty any more when I drive home from work and see people exercising. It's also great for stress and making me feel centered.
Any other comments?  Just in response to Jeremie's comment: My butt looks like it is sticking up during superplank because I actually have a butt, unlike others that I won't name.  And I will be better than you at superplank soon. It's on!