Erika Schlarmann (Feb 2017)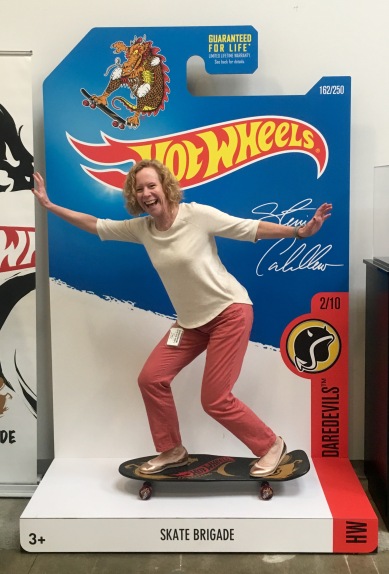 AGE:  55
PROFESSION:  Recruiter
HOMETOWN:  Long Beach, CA
COLLEGE:  UCLA (go Bruins)
FAVORITE FOOD:  Cheese, cheese and more cheese.
FAVORITE PLACE VISITED:  Jerusalem
PLACE YOU WANT TO VISIT:  Egypt
FAVORITE MOVIE:  I'm more of a book reader.  I haven't been to the movies in years.
FAVORITE SINGER:  I couldn't even tell you…I listen to sports podcasts.
HOBBIES:  Watching my cats on my nest cam.  🙂
What is your current exercise routine?  Of course, I do Sonki Fitness and also play beach volleyball and ski.
What is your motivation to stay in shape?  I like being strong. Plus, staying in good shape at my age keeps my body performing at its best.
What is your greatest challenge to staying in shape?  My boyfriend's exceptional guacamole and Corie Burton's baked goods (shout out to fellow Sonki Warrior)!
What is your key to success?  I'm very disciplined. I rarely go more than one day without working out.
What do you like about Sonki Fitness and how has it affected your life?  I love Sonki Fitness because it gives me a great workout with a great trainer and great friends! Perhaps more importantly, Sonki Fitness has helped me get strong enough to avoid needing a hip replacement surgery. Two years ago, I was in quite a bit of pain and was told by my surgeon that I would need a hip replacement very soon. Well, training with Sonki Fitness has really helped strengthen my hips and glutes, which has meant no pain, no meds and no surgery. I'm not saying surgery is not in my future, but as long as I keep those muscles strong, it's in my distant future. I tell my trainer Eve…it's "all glutes all the time" for me.
What advice would you give to others about fitness?  I really believe that fitness combats so many problems from joint issues to osteoporosis to depression. As you get older or get injured, modify but don't stop building muscles. And do it with a great trainer and great friends!
Any other comments?  Just a big thank you to Sonki and Eve!  🙂