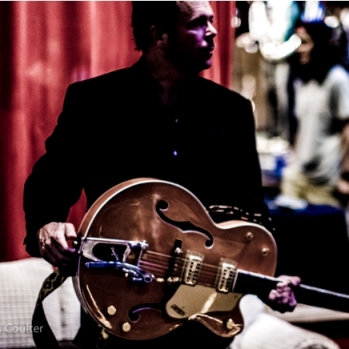 AGE: 47
PROFESSION: Music Entrepreneur
HOMETOWN: Playa del Rey
COLLEGE: Kansas
FAVORITE FOOD: Lobster
FAVORITE PLACE VISITED: I had the great fortune of touring through south Ireland with friends. We had the most fun in a beautiful fishing village on the coast called Kinsale. I will go back.
PLACE YOU WANT TO VISIT: The Far East.
FAVORITE MOVIE: Lincoln (for now)
FAVORITE SINGER: B.B. King
HOBBIES: Playing in blues and rockabilly bands. Golf.
BACKGROUND: I was turned on to Sonki Fitness a few years ago and found that the group dynamic and real world exercises greatly enhance the workouts. Even the days that I am not motivated, I find that I can get into a workout as long as I show up. And once the workouts begin, I am completely focused and happy that I made it to class. I have lost weight and toned quite a bit in the past few sessions which has given me added confidence and has even enhanced my creativity. My mile time has gone down over 2 minutes, and I'm in the best shape of my life! Sonki Fitness has made me make healthier life decisions since being a musician late nights and drinks are always tempting. But I have been getting up at 5:45am three days a week, and I'm happier all day long. For awhile I was even riding my bike from Playa del Rey to Santa Monica and back for Saturday class to give myself even more challenges.
What is your current exercise routine? Sonki Fitness on Monday, Wednesday, Friday and Saturday's. Even if I didn't get a wink of sleep the night before, I still just get myself there with my team. Their support and encouragement remind me why I'm there.
What is your motivation to stay in shape? I feel great all week as a result of these workouts, especially since it has added confidence and creativity to my career. I also know it's good for my health, plus I enjoy being challenged.
What is your greatest challenge to staying in shape? My biggest challenge is working out the morning after dinner and drinks with friends or clients. Also, vacations.
What is your key to success? This one is easy. Just show up.
What do you like about Sonki Fitness Boot Camp and how has it affected your life? The Sonki Fitness workouts enhance many areas of my life: Confidence, mental toughness, and creativity. I am extremely thankful for Sonki Fitness!
What advice would you give to others about fitness? Just show up. Keep showing up.
Any other comments? Thanks Sonki, Lindsay and Katie!!!