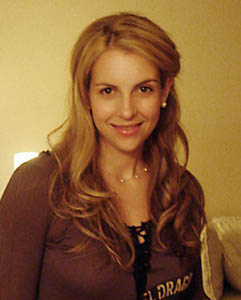 AGE:  32
PROFESSION:  Production Manager
BACKGROUND:  I have lost 24 pounds since I started with Sonki Fitness in Feburary of this year. I feel very happy with my results and am very inspired to keep going…
How long have you been working out?  I have been working out steadily since 2000 when I started running marathons to try to take control of my weight. I was in a boot camp in 2003, but that boot camp closed down and I went back to the gym. The problem for me with the gym is that when I get into a routine, my body learns it quickly and I would stop losing weight. Now that I've found Sonki's boot camp I am in much better shape again. Sonki Fitness Boot Camp really changes up the routine so your body is always challenged.
What is your current exercise routine?  I love to work out every day, and I use Sonki Fitness Boot Camp to keep myself motivated and as the cornerstone to my fitness routine. I don't believe in using a gym for myself because I used one for years with little results. I attend boot camp M-W-F at the Westwood location and have found this to be the best way to get in shape for me. On Tuesdays I do strength training at home and run around the neighborhood mixing in lunges, push-ups and various Sonki tricks along the route. On Thursdays I use a Pilates DVD to cross-train my core. On Saturdays I use a routine similar to Tuesday. On Sundays I attend a power-yoga class in Santa Monica that really helps with flexibility.
What is your motivation to stay in shape?  I started out with Sonki at the beginning of the year because I got engaged and wanted to get in shape the right way with plenty of time. But along the way, I've found that mixing things up a lot with boot camp and other activities has really helped me balance the rest of my life. My motivation for now is the wedding, but I think I will stay motivated to just stay in shape for a long time to come.
What is your greatest challenge to staying in shape?  My greatest challenge to staying in shape is when I hit "the wall," and I don't see any improvement or weight loss for a while. Having Sonki's class to attend and be accountable to really helps me push through those moments of doubt.
What is your key to success?  My key to success is focusing on how I feel at the moment I am working out. When I have to get up early in the morning I try to keep in mind how much I enjoy the fresh air and that super great feeling I get when the workout is done. That is what motivates me to get out of bed at 5:45 every morning!
How long have you been doing Sonki Fitness Boot Camp?  I have been attending Sonki Fitness Boot Camp since February of this year.
What do you like about Sonki Fitness Boot Camp and how has it affected your life?  I really like the fact that Sonki Fitness is set up in a way that makes it easy to keep coming back. Classes are held at times that work with most business schedules, and the price is a great deal that is reasonable enough to afford for an extended period of time. (Hopefully a very long time.) This boot camp has gotten me back on track and to the place that I wanted to be for my wedding. I am very pleased with the results and the positive environment that I am in to achieve them.
What advice would you give to others about fitness?  When you think you want to stop, when you think you just can't get out of bed or go after work; just try to visualize yourself after the class, happy that you haven't missed it, and relaxed because you worked hard and have nothing better to do than enjoy the rest of your day!