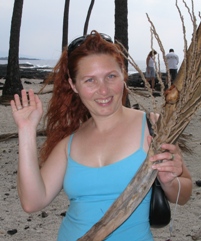 AGE:  40
PROFESSION:  Coordinator: Sony Pictures Entertainment, Assistant Instructor in Scuba Diving for Sand Dollar Dive Boat and Eco Dive Center, Custom Costumer, Festival Performer, and Reality TV Contestant
HOMETOWN:  Anchorage, Alaska
COLLEGE:  University of Alaska, Anchorage
FAVORITE FOOD:  Versailles Garlic Chicken
FAVORITE PLACE VISITED:  Zimbabwe, Australia, Nepal, France, and Italy
PLACE YOU WANT TO VISIT:  There are too many to list! I'm off to Mongolia in August for horse trekking. My goal is to see the entire world above and below the ocean.
HOBBIES: Adventure traveling, jewelry making, skiing, photography, scuba diving, hiking, history, and charity events/volunteering.
BACKGROUND:  I found Sonki Fitness in March of last year when I was training for Kilimanjaro and needed to boost my exercise. For the first time in years, I was sore again after working out and happier than ever! I love the rain or shine mentality of Sonki Fitness!
What is your current exercise routine?  Sonki Fitness 3 days a week, (usually twice a day) and cardio twice a week.
What is your motivation to stay in shape?  Many of my vacations need a certain level of endurance and my job in scuba rescues require that I am in top shape. Additionally, scuba also requires me to be seen in a swim suit all year and that is a lot of motivation right there!
What is your greatest challenge to staying in shape?  I love food!  I can also be incredibly lazy when it comes to working out if left to my own devices. Knowing I have my fellow Sonki Fitness Warriors and trainers who will call me out when I skip is motivation enough to show up.
What is your key to success?  Mark Burnett (reality show producer) taught me that you can strip away everything except the desire to succeed. When it gets so tough that you want to quit, as long as you dig deep within yourself, you will find success. I have found the same "dig deep" mentality in boot camp whenever I feel like I want to quit. Between Sonki & Mark, I use this same principle in my everyday life when I feel like I have nothing left and it keeps me going. Not to mention that I am too stubborn to quit!
What do you like about Sonki Fitness Boot Camp and how has it affected your life?  I work several weekends a month on a dive boat as the Dive Master/Rescue Swimmer. Prior to training with Sonki Fitness, I would be out of breath and exhausted when I would go out on a rescue. Recently, I had two rescues in a row and found myself energized and not as exhausted as I had been 6 months earlier after the same amount of exertion!
What advice would you give to others about fitness?  The two hardest steps are making that commitment to yourself and showing up to class. After that, it gets easier and anything is possible. I like to say that there aren't any days on a calendar that say, "today" or "tomorrow" or "next week".  There are only dates. Pick a date and start.
Any other comments?  One of my favorite quotes, "I shall either find a way or make one." – Hannibal