Jean-Marie Knight (Jan 2009)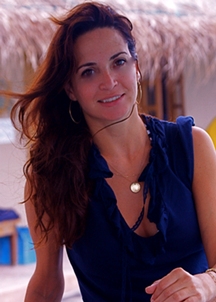 AGE:  35
PROFESSION:  Freelance Fashion Designer
HOMETOWN:  San Mateo, CA
COLLEGE:  Otis Parsons (BFA), Whittier College (BA)
FAVORITE FOOD:  Home cooked Italian. I love fresh ingredients, and often visit the Santa Monica Farmers Market after Wednesday's Boot Camp class for inspiration.
FAVORITE PLACE VISITED:  South Africa (safari). I went last summer on a 3-week trip with one of my best friends to celebrate our 35th birthdays. We spent five days on a private reserve in "the bush." The beauty and mystique of the wild animals was breathtaking.
PLACE YOU WANT TO VISIT:  Australia, Peru, and Japan
HOBBIES:  Skiing, biking, tennis, yoga, photography, and jewelry making
What is your current exercise routine?  Sonki Fitness 3 times a week and some cardio on my off days. I have recently started yoga and find it to be a relaxing way to work on breathing as well as stretching.
What is your motivation to stay in shape?  I know that if I take care of my body now, it will take care of me later. When I work out in the morning, that motivates me to eat healthy throughout the day.
What is your greatest challenge to staying in shape?  My biggest challenge is maintaining my motivation. The class environment really helps. Thankfully, I know that as soon as I get to Boot Camp there will be a group of fellow Sonki Fitness Warriors pushing just as hard to reach their goals, which helps me stay motivated. It becomes a team effort instead of something I am doing on my own.
What do you like about Sonki Fitness Boot Camp and how has it affected your life?  I really enjoy seeing the smiling faces of Sonki and my fellow Sonki Fitness Warriors. I love the vibe and outdoor ocean views where we work out. Also, Sonki Fitness Boot Camp has given me not just physical but personal strength as well.
What advice would you give to others about fitness?  Fitness is the key to living a long and active life. As in most things, it gets easier the more you practice. The key is not to quit, and you will reach your goals. I believe it is the true fountain of youth.