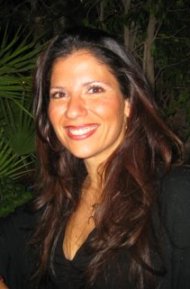 AGE:  34
PROFESSION:  Marketing
BACKGROUND:  I have always been active. I started playing volleyball when I was in the 4th grade and from there all hell broke loose. I began participating in every team and individual sport throughout school and even after college. Soon after I discovered the gym and exercise in general, I realized that I love to work out and do anything that keeps me active. It was fun! One slight problem…I was FAT (not PHAT), and I mean REALLY FAT. In my mid-twenties, my overindulging had completely caught up to me. When I moved back home to California from a brief stay in NY, I realized that I was seriously obese and unhappy (this was seven years ago). To make a long story longer, I lost about 80 pounds since moving back to LA and kept it off through diet and exercise, but I still needed to lose another 30 – 40 pounds. Luckily, I discovered Sonki Fitness through my friends Maura and Virginia!
Since joining Sonki Fitness last year, I have lost well over 40 pounds. Pretty cool! My fitness assessment scores from Feb 2007 were 25 push-ups, 41 sit-ups, and 10:25 on the mile run. My most recent scores (April 2008) were 52 push-ups, 85 sit-ups, and 7:28 on the mile. I more than doubled my push-ups and sit-ups while shaving off about 3 minutes off my mile time since starting Sonki Fitness. If I can do it, anyone can! I know that is very easy to say, but in just 5 weeks of Sonki Fitness training there is a drastic change in total body fitness, SERIOUSLY!! Thanks to Boot Camp and healthy living (as best I can…I am not gonna lie…the horror!), I am honestly the fittest and happiest I have ever been. I look forward to more adventures life has to offer. As my friends and I always say "GO HARD OR GO HOME"…ha ha ha…
What is your current exercise routine?  Current workouts include Sonki Fitness Boot Camp of course (at 6:30am M/W/F), spinning, running, walking, hiking, Santa Monica stairs…anything I can do outdoors really. I also enjoy volleyball, paddle tennis and kickball (although I don't think kickball is very…um…aerobic). Virginia, Maura and I just joined salsa aerobics (it's fun)! Basically anything to mix it up, have fun and stay in shape. I also just started swimming and biking as part of my training for the Catalina Island Sprint Triathlon in November. God help me…
What is your motivation to stay in shape?  Keeping the weight off and staying healthy, fit and maybe even fabulous. Keeping the weight off is my biggest challenge, but I am in it to win it and plan on giving it my all always.
What is your greatest challenge to staying in shape?  Maintaining healthy eating habits. Although I can be very good at it, I can be very bad at it too. And definitely keeping the alcohol consumption in check (because I like beer).
What is your key to success?  Dedication, discipline, determination…and a whole lotta prayin'. Staying humble & focused (weight can come back in a blink of an eye). My mom, dad, and friends that I adore who have been my support through thick and thin (literally). And my workout buddies of course – Virginia, Maura, Lisa, Tressa, Helen, Quinn, Brian…and not to mention my Sonki Fitness class…they rock! I have a lot of keys to success.
How long have you been doing Sonki Fitness Boot Camp?  Just a little over a year.
What do you like about Sonki Fitness Boot Camp and how has it affected your life?  I simply love it! The people are great, and everyone is there to work out hard. I can't ask for anything more. I'm a changed woman. Flickerball anyone? Who doesn't love this game? I know I do! Seriously, it has affected my life in nothing but positive ways.
What advice would you give to others about fitness?  I wanted to puke EVERY TIME during my first 5-week session of Sonki Fitness, no matter what we did! I even had to email Sonki about it because I was worried there was something really wrong with me!! But he told me I would live…so I kept coming back and eventually that feeling went away (thank God). So I guess what I am saying is…DON'T EVER GIVE UP!
Any other comments?  Sonki rocks, Boot Camp rocks, George Forman Grille still rules!