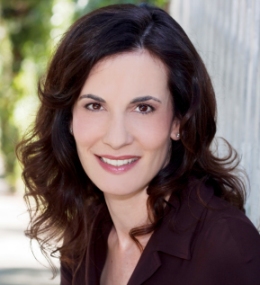 PROFESSION:  SVP, Media and Interactive Marketing, Paramount Pictures Home Entertainment
HOMETOWN:  San Pedro, California
COLLEGE:  Loyola Marymount University
FAVORITE FOOD:  Italian and Mexican
FAVORITE PLACE VISITED:  Florence, Italy
PLACE YOU WANT TO VISIT:  Austria and Croatia
FAVORITE MOVIE:  The Wizard of Oz
FAVORITE SINGER:  I have so many favorites!  Some that come to mind are David Bowie, Frank Sinatra, Michael Jackson and Billie Holiday.
HOBBIES:  Cooking, Baking, Reading, Exercising
BACKGROUND:  I come from an Italian and Croatian family that has many great cooks and many rich traditions.  Great food has always been a central part of my life.  I was never a good athlete, but I did work out at the gym a lot, primarily doing cardio activities like the bike and the elliptical machine to keep my weight down.  A friend of mine, Justine, told me about her Sonki Fitness Boot Camp workouts, and I thought "oh that's too hard core for me."  But after a few years something inside of me decided to give it a shot.  I think I was just getting really bored with my gym workouts and wanted to try something new.  I joined Sonki Fitness in October of 2010.  After the first week at Sonki Fitness, I'll admit that I was very sore but also inspired and determined to move ahead with it.  I now have a hard time imagining my life without working out at Sonki Fitness.  I have certainly gotten much more physically fit, have lost inches, and most of my clothes are looser now.  I like Sonki Fitness because it provides a very supportive environment.  I would not do well at those boot camps where the instructor yells at you to work harder.
What is your current exercise routine?  My primary workout is Sonki Fitness.  On my off days, I try to do at least a power walk for 30 minutes.
What is your motivation to stay in shape?  Since I like good food and am constantly eating in restaurants, I have to balance that with staying in shape or else it would not be a good thing!
What is your greatest challenge to staying in shape?  I have a pretty demanding job, so it's tough sometimes to squeeze in time to work out when I'd rather be sleeping or doing something else.  I just have to remind myself that getting out of bed for that first five minutes is the hardest part, but that I know I'll feel so much better when my Sonki Fitness workout is done for the day.
What is your key to success?  Consistency; not letting too much time pass between workouts.  Also, I never want to be as sore as the first week that I took Sonki Fitness over a year ago, so that also keeps me going!
What do you like about Sonki Fitness Boot Camp and how has it affected your life?  Not only has Sonki Fitness made me physically stronger and more fit, but it has also given me a greater mental strength and a better overall outlook on life.  I have benefited immensely from my time at Sonki Fitness!
What advice would you give to others about fitness?  You really have to view exercising as a necessary part of your life for the long haul.  Almost everyone (certainly including me) slacks off at times, but the key is to be consistent and to never ever give up.