Patricia Garcia (Nov 2014)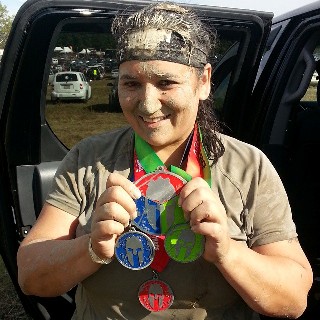 AGE: 40
PROFESSION: User Experience Architect (in web design)
HOMETOWN: Aurora, IL (near Chicago)
COLLEGE: DeVry University (BS), DePaul University (MS)
FAVORITE FOOD: Seafood
FAVORITE PLACE VISITED: New York coffee shops
PLACE YOU WANT TO VISIT: Machu Picchu
HOBBIES: Yoga, hiking, mud & obstacle course racing.
BACKGROUND: I grew up in the midwest where I'd run trails a lot and got into mud & obstacle course racing in the area and had completed more than a dozen races before my move. I mostly did the Spartan Races because of the community created and because they are known to be some of the toughest for their kind. I moved to LA in 2013 with my 10 year old son and our dog. I thought the healthy lifestyle I adopted before I left would be easy in LA, but the major life change of uprooting me from my home and family took its toll on me and my body. I made the decision that no matter how many times I fell off the wagon, I would continue to get back up and keep on moving. The move did set my healthy goals back a bit, but luckily I found Sonki Fitness at a health fair shortly after my move and started attending classes. I continued to do my Spartan races and found them even tougher in California than in the Midwest. California has some of the toughest conditions and the dry air that I am not accustomed to running in. The first one I attempted in California, I failed to complete. Through Sonki Fitness, I have grown stronger and improved my fitness level that allowed me to keep going when I felt all was lost at a race. I earned the Spartan Trifecta for 2014 at the end of September by completing 3 Spartan races from each of their categories, Sprint (4+ miles), Super (8+ miles), and Beast (12+ miles). Most importantly, I have found that while I always walk away bruised and sore from a race, my recovery time has improved from being laid out for a week or two, to being able to get back to training a couple days later. To me, that's HUGE progress even if my weight loss goals are turtle slow in moving. I am strong and have seen myself complete obstacles that a year ago I felt were impossible without help. Now, I don't assume anything is impossible and I put myself out there to at least try it and see if I can surprise myself with what I can actually do.
What is your current exercise routine? Sonki Fitness 3 times a week, yoga, TRX, and running.
What is your motivation to stay in shape? For my health first, vanity second.
What is your greatest challenge to staying in shape? Diet. Understanding and listening to my body's nutritional needs.
What is your key to success? First setting goals. Clearly visualizing and setting measurable goals. Checking in on those goals and rewriting if necessary. The point is just to have a clear picture of what I am striving towards.
Second, in an effort to obtain those goals – deep breathing. This has helped me anytime I feel myself getting tired and can't keep going, or having to make a decision (about food). Sometimes, just bringing my attention back to my breathe allows me to keep going and make the right decision for my body. It stops me from over-analyzing a situation and getting frustrated and allows me to just trust myself enough to make the right choices.
What do you like about Sonki Fitness Boot Camp and how has it affected your life? I like how not just the instructors but also the other members cheer you on and give encouragement. We're not a bunch of individuals attending a fitness class and only focusing on ourselves but a team motivating each other to push to our individual limits. There is friendly competition but only against others who are at a similar level to each other.
I also like the class structure of balancing strength and cardio and making us move even if we feel we can't. This has helped me immensely in my mud & obstacle course racing. I have to go from flipping a large tire and go running about half a mile before the next obstacle and getting tired after the tire flip and resting isn't an option if I want to make good time.
What advice would you give to others about fitness? Have many ways you measure your goals in order to see progress. If you rely on single measure like weight loss/gain, you miss out on the strength you may be gaining or the endurance level you may have improved. Or vice versa. You may see some numbers not change for months, while other areas show great improvement and that is what should motivate you – those smaller successes that you meet on the way to your greater goals.