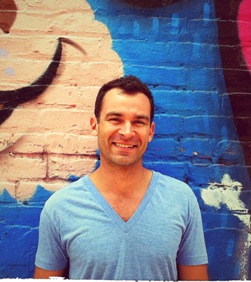 AGE:  30
PROFESSION:  Cameraman for SEVEN Network Australia
HOMETOWN:  Australia (Queensland)
COLLEGE:  Became a cameraman straight out of high school.
FAVORITE FOOD:  Indian, Sushi and your American hamburgers…gee they are good!!
FAVORITE PLACE VISITED:  I have been all over the world, and New York City is my favorite! What a city, it blows my mind every time I go!
PLACE YOU WANT TO VISIT:  Italy and the Greek Isles.
FAVORITE MOVIE:  Gladiator, Bourne Identity.
FAVORITE SINGER:  Kenny Rogers. Only because I just did a story on him in Nashville!! HA HA!
HOBBIES:  I love traveling and seeing the world, surfing, hiking and beers with my mates of course.
BACKGROUND:  I have always been very active. While growing up in Australia, I played football (Aussie Rules-AFL) in school, surfed and rode dirt bikes.  I've always been in decent shape, but I let my self go for a year when I first moved to America (when the joy of hamburgers and partying with mates took a toll!).  I told myself I need to get back in shape, so I first started Sonki Fitness Boot Camp in October of last year.  Since starting Sonki Fitness, I have lost the 12 kilos (25 lbs) of burgers and beers.  I feel better than ever and will never let myself get that unhealthy again!
What is your current exercise routine?  Sonki Fitness Boot Camp 3 days a week, and the gym in between doing weights, running, etc. And I often do hikes on weekends.
What is your motivation to stay in shape?  I want to feel good about myself and look healthy. Exercising gets the endorphins going, and it's a great way to start the day.
What is your greatest challenge to staying in shape?  Finding the time to work out while traveling for work! I travel a lot covering news stories around the US and the world, and sometimes the time difference makes it hard to get up and work out. But I always try to make the effort because I always feel better after a workout!
What is your key to success?  Sonki Fitness is the biggest key to my success. While doing Sonki Fitness, I have gained strength and motivation to keep fit!
What do you like about Sonki Fitness Boot Camp and how has it affected your life?  I enjoy the early morning workouts in Santa Monica. What's better than waking up and running along one of the most beautiful and famous beaches in the world? It puts a smile on my face. It makes me happy to live in America and reminds me every now and then of home (Australia) because of the gum trees. Since starting Sonki fitness, I've lost 25 pounds and have gotten much faster (my mile time is down to 5:47). I'm very happy with my results and thank Sonki and fellow warriors for pushing me along!
What advice would you give to others about fitness?  Make the effort to exercise. It makes you feel better about yourself, and it is also a good way to meet new friends.
Any other comments?  Everyone should try the Tough Mudder…so fun!